Yearning for a holiday of a lifetime, we have some great and paradisiacal venue recommendations for you. For everything a luxury destination can offer – weddings, honeymoon, relaxation and even adventure – Mauritius is very hard to beat. In this travelogue, your " tour guide" is our very own Editor reGina Jane Jere – who crisscrossed the Indian ocean gem and discovered how extraordinarily diverse it is. She shares her envy-inducing experience.
Although renown for its powder-soft white sand beaches and alluring azure blue ocean fronts, there is much more you can do in this famously dubbed "paradise island", should you chose to hold those equally renown big, fat and awesome African weddings.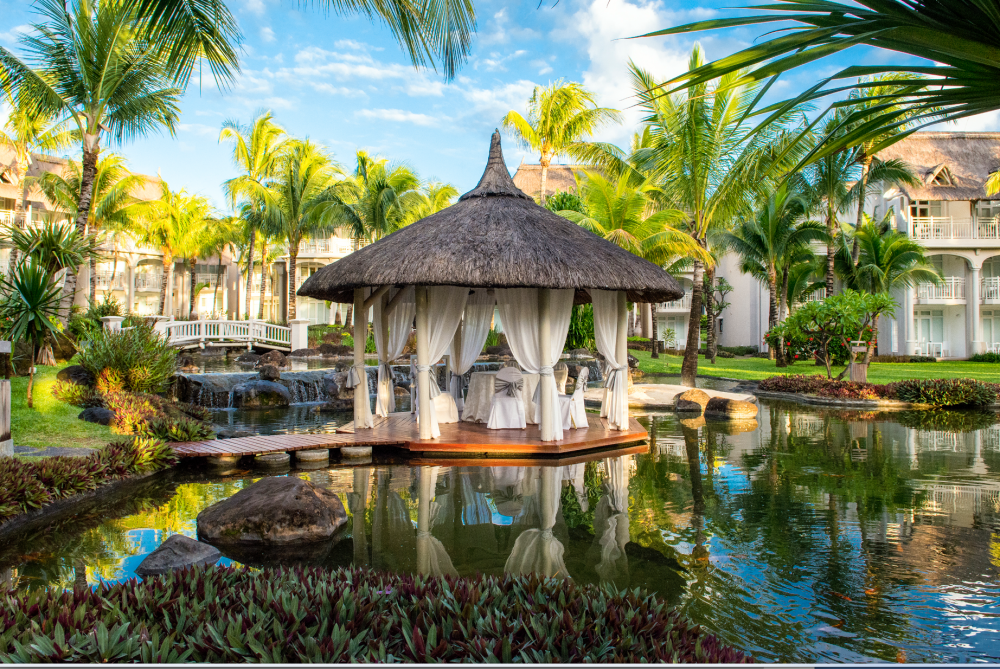 The wedding-talk of the moment is that of Meghan Markle and Prince Harry's pending nuptials. But we also know that its high season in Africa for many princesses who have met their prince and vice versa. The growing African middle class are increasingly seeking to get married in luxurious locations outside their homelands. And reports suggest well-heeled Nigerians top the list, cue the the opulent June wedding of Nigerian billionaire Folorunso Alakija's son Folarin at the iconic Blenheim Palace in England, at a reportedly hefty $7.2million.
Indeed, London, Dubai and the Maldives have become hit spots for what many Africans habitually call the "white wedding".But if money to finance a big luxury wedding party abroad is not hindrance, how do you choose and plan an ideal wedding, even honeymoon destination to remember a lifetime and worth your every dime?
"Selecting the right location for your big day can be daunting. But there are also many myths surrounding some ideal locations such as here in Mauritius, and this is where wedding planners come in to help with not only arranging the perfect day, but signposting families, to where you can have the most memorable, occasion," says events and wedding planner Seyi Olusanya who runs Once Upon a Destination.
Here are just a few of my top picks from the venues I visited. If money is not an issue, why shouldn't you get married, honeymoon even babymoon in Mauritius?
Postcard Perfect
Tasteful colour palettes, modern décor and furniture greet you into the luxurious suites and villas, with heavenly ocean views and a velvet sand beach right on your doorstep, facing a stunning lagoon – a perfect backdrop to perch a nuptial gazebo. Although at 2000 square metres, LUX* boasts of one of the islands largest outdoor pools, the 12 private villas on the resort, come with own heated pools, offering you and your guests intimacy and privacy, should you wish to go for that.
Four personalised restaurants, will give you the ultimate food-for-thought- literally! The hotel has carefully though out every need and request. The sous chefs will for example, even provide a gluten free 3 course meal, should you have gluten intolerant guests in the midst, (as we had on our trip).
The crowd-pleasing K Bar lounge serves crafted beers perfect to cool down to, and the magnificent Mari Kontan, a cabana-style Mauritian rum corner, will never leave you and your guest wanting! Then throw in the teahouse and LUX* coffee which is ground on sight! Delightful!
As for your wedding, no detail has been spared here with bespoke packages that can be tailored to your every need. Even a bridal photoshoot can be thrown in!
And then there is the LUX* ME Spa. Where do I even start? Better to just say – you can start your day with a daily complimentary entry Spa anytime between 9am to 2pm.Simply an irresistible offer. In sum, this hotel has thought of everything – you just turn up!
Your own Island Castaway!
A protected heritage which borders the Blue Bay Marine Reserve, the private island, Île des Deux Cocos with its bed sheet white sands, is a hidden gem to which many high profile celebrities quietly pilgrimage, close off the world, and unwind in seclusion.
You and your guests can hire this venue (part of the LUX* chain) for a day out of private fun, food, wine and even homemade rums – the mixed fruit turned out my favourite. Unlike most venues, here you can get away playing your music as loud as you can and dance your night away without the issue of disturbing locals or neighbours, including toffee-nosed ones.
If Michael Douglas and Catherine Zeta Jones can pick Ile des Deux Cocos as their hideaway, this is one venue your guests will find very hard to beat.
As its vivacious and proud manager Mario explains, the castaway beauty has recently refurbished to very high modern standards without spoiling its original Moroccan décor appeal. "This is one of a kind, there is nothing else like it in Mauritius," he explains. Book it exclusively, or visit on day excursions with your family or entire wedding party. Although religiously protected as a nature reserve, as long as you adhere to strict preservation rules, you can still make this your very own private island – even if for a day only!
Endless possibilities
Just northwest of the bustling capital of Port Louis, lies the stunning Bay of Balaclava, and it is here where the Intercontinental Mauritius Resort awaits to surprise you. Although it was just an overnight stay, I managed to get a give a glimpse into what it is capable of offering. A big Indian wedding had just concluded in the ballroom and it is still decked in splendour as our host Jiri Benes, the hotel's
Director of Marketing & Sales takes us around for a tour of the facilities. "You can have over 200 guests here and yes it will accommodate a Nigerian flavoured wedding, but we also offer awesome beach front weddings, either open skies or in a manqué," he says with a smile.
The expansive luxury facility's amazing heated infinite pool is truly and magnificently magnetic.
As we sat down for dinner that night in what is clearly the hotel's pride and place restaurant – Noble House, I had made up my mind that if one of my children chose an Island wedding by the beach, this is perhaps the one. All our family and guests would be home here – and the pricing is soft on the wallet. No wedding yet or honeymoon yet? Still get your passports ready for an awesome stay here – the possibilities are endless.
So Serene
Situated in the popular pristine Flic en Flac region, this beauty has one of the mind-blowing ocean views I encountered on this trip. As I sat sipping a Mai Tai on a deck chair, taking it all in, I eavesdrop newly weds discussing the awesomeness of their day. I can't help but say "congratulations guy, what a lovely venue". The new bride smiles with a thank you pointing to a spot by the beach: " Had you been here two days ago, our wedding gazebo was still standing right there, they just dismantled it…it was beautiful we wanted to take it home with us." Her adoration is clearly palpable.
We later meet up with Marie-Noëlle Moutou, the very amiable and spirited meetings' planner, from the hotel's marketing team. "An Africa or Nigerian wedding would be perfect here, we are so up for such and we hope to welcome you back with your entourage – we love big weddings here and we can cater for at least 200 people," she enthuses staring invitingly at my Nigerian colleagues in the entourage, as she walks us up to the So Spa. "We call this the "Ali Baba Door," she tell us she opens this wonderful piece of art which leads into the Spa courtyard and swimming pool! And as soon as you are inside – you have to be so stone-rigid not to be enchanted! From the aromas, the soothing sounds of the fountains, to the understated, yet welcoming facilities, you just know, you are in for Spa treats to remember.
I left with this resort with that confident thought – this is an easy-going retreat that will appeal everyone. And remember the views, the views!
Be Unique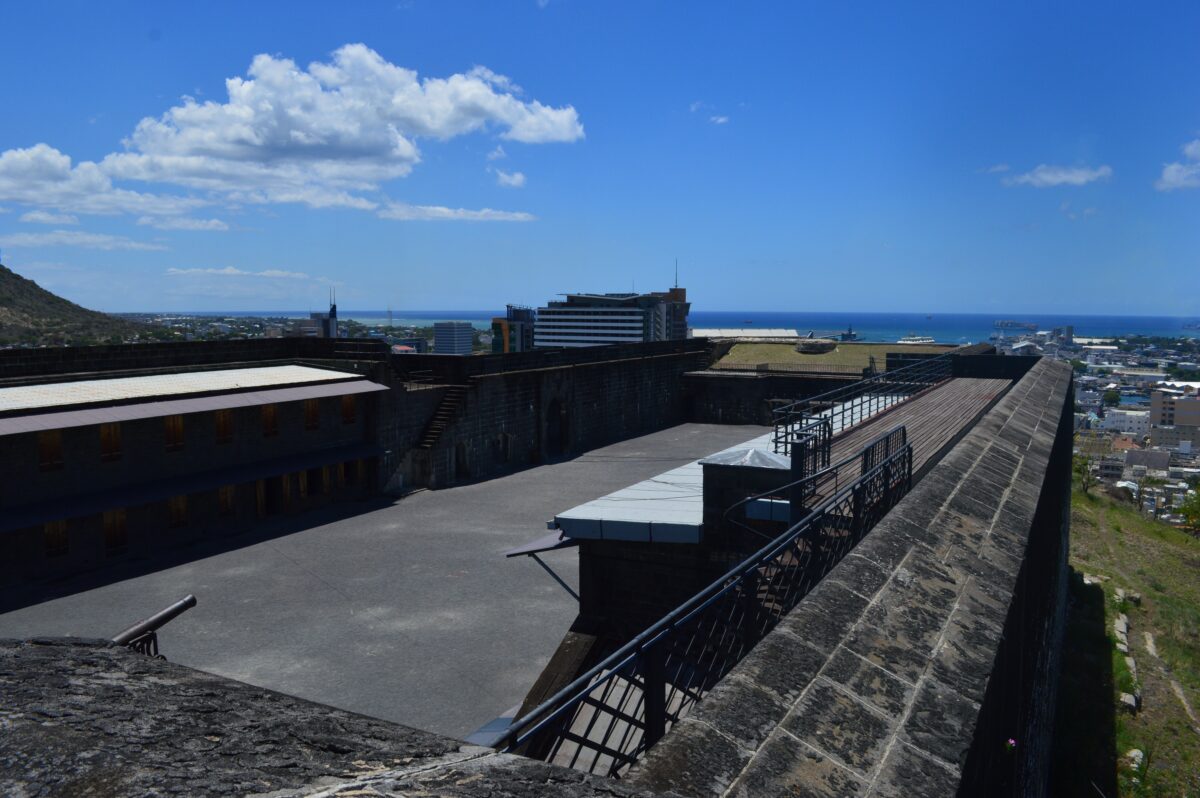 Perched atop the hill Petite Montague, with near 360 degrees stunning views of the capital Port Louis, sits the understated marvel that is the Citadel. Built as a fort to keep the French attackers away, this national monument today remains under utilised as an event's venue, except for an odd concert now and then. I couldn't help but visualise that for those with a quest for uniqueness – this place can be the perfect backdrop and venue for an amazing wedding that will be remember for a lifetime. At 400 square feet, it can cater for 300 guests! Worth finding out the feasibility of your nuptials here – it will be a first!
Yes you can.
Have you always dreamt of having one of the most unique and out of this world wedding ceremonies? How about exchanging your vows in an underwater marine metropolis surrounded by the most picturesque marine life and beautiful corals. Mauritius offers some of the most stunning aquatic paradises on mother earth, and housing some of the most unique species.
If yours is a small group, an underwater wedding ceremony in a submarine will blow your guests' minds away – marvelling at the novelty of it all. And if you choose the sight offered by Blue Safari in Trou-aux-Biches, for example, you can even get very close to a huge Chinese shipwreck in the belly of the ocean, which can be part of a very unique pictorial backdrop! How cool is that!
EXPLORE! EXPLORE! EXPLORE!
But Sun, Sea and Sand is not all! Mauritius also offers perfect escapes and day outs for your wedding party. The ease of driving to any part across the island for day trips in less than one and half hours from one point to another, makes exploring other ventures very easy. These car rides also offer a way of taking in Mauritius's glorious in banana, coconut, pineapple and sugarcane farms and the centuries-old flora and fauna as well as its highly protected nature reserves.
Here are a few things to do away from your exquisite beachfront hotel.
Port Louis
When the driver from the Mauritius Tourism Promotion Authority drops me off at the L'Astrolable Port Louis Waterfront at 8.30am on a Tuesday, I initially moan as to why so early. But as I will learn later, it needed to be that early. The tour guide I meet at the Waterfront – Shakti Callikan, works for My Moris – who offer a unique and alternative form of tourism traditionally associated with the island:
"Everything about our beaches and lush tropical nature are is beautiful, but Mauritius is so much more than that…we have a very vibrant, diverse culture and deep history, that is what we explore among much more. This way you get to know the true Mauritians as well," says Shakti, an amazing narrator.
As she takes me on the My Moris – Cultural and Culinary Tour – which takes you around downtown Port Louis for 4 hours – on foot – stopping only to sample different authentic foods in street stalls – Shakti basically a walking and talking encyclopaedia – she captivates me with so much history of the island – from architecture, religion, immigration, China town and the fascinating history of Chino-Mauritians as well as the painful past of the country's slave trade.
I highly recommend this early morning tour, but by the end of your 4 hour walk, not only will you know more about the other side of Mauritius and its fascinating population, you will also be glad you started early. The sun would be out and burning by midday, and so are the crowds – you will be sweating and snail-walking back in the cobbled pavements. I was glad the tour was earlier, and what an experience. Flat shoes are a must.
Try out Casela World of adventure
Why not get your guests get in touch with their wild side by getting the wedding party spend the day at the Casela World of adventure, where fun meets lessons in wildlife preservation.
While you while away on an excluded romantic beach, your guests will be having a time of their lives at this 250 hectare- marvel, walking with Lions, interacting with Cheetahs and going on an adventurous safari ride. Cesala is indeed a great day out for group fun, the young, old – and the millennials in between.
Fire up the adrenalin
The young and those young at heart Adrenalin junkies in your wedding party will love the Quad Biking offered at Domaine de L'etoile in Nalini. It is also one of the best ways to take in the beauty of the luscious floral, fauna and mountain greens of the island as the drive takes you up a mountain where extraordinary views of the country's flora and fauna greet you. Early June – when I visited, is perhaps the best time for this adventure as the sun was not as searing and at an average of 26 degrees and the gentle rain that followed just added a touch of wet and wild adventurism to our quad biking experience. This nature reserve did not disappoint. Did I mention the zip lining?