Back in 2017, we featured newly appointed Netflix CMO – Bozoma Saint John – as one of our African Women of the Year. Her star was already shining bright even then. She was head of Global Consumer Marketing at iTunes Apple music, making her one of the most powerful black woman in the field.
Who can forget her presentation at the 2016 Apple Worldwide Developers Conference at which she indisputably, brought a fresh and cool perspective to the brand. Even BuzzFeed gushed: "Bozoma St. John Is The Coolest Person To Ever Go Onstage At An Apple Event."
She left Apple in 2017 to become Chief Brand Officer at UBER. A year later, Bozoma – whom some media houses have describe as "Marketer-in-Chief", joined Endeavor, to head up its marketing operations as Chief Marketing Officer.
Bozoma is truly an inspirational figure many black women, more so the youth, aspiring to work in tech, marketing or advertising, can look up to.
Her contribution to the advertising industry is well documented. In 2014, she was recognised by the American Advertising Federation which inducted her in the Advertising Hall of Achievement – the industry's premier award for outstanding advertising leaders age 40 and under. In 2018, she was featured in the Hollywood Reporter's Women in Entertainment Power 100 list and on in Forbes Magazine as one of World's Most Influential CMOs. She has also been featured in Fast Company's 100 most creative people listing.
Ealier this month, Netflix appointed Bozoma its new Global Chief Marketing Officer. "Bozoma Saint John is an exceptional marketer who understands how to drive conversations around popular culture better than almost anyone. As we bring more great stories to our members around the world, she'll define and lead our next exciting phase of creativity and connection with consumers," said Netflix co-CEO and Chief Content Officer Ted Sarandos.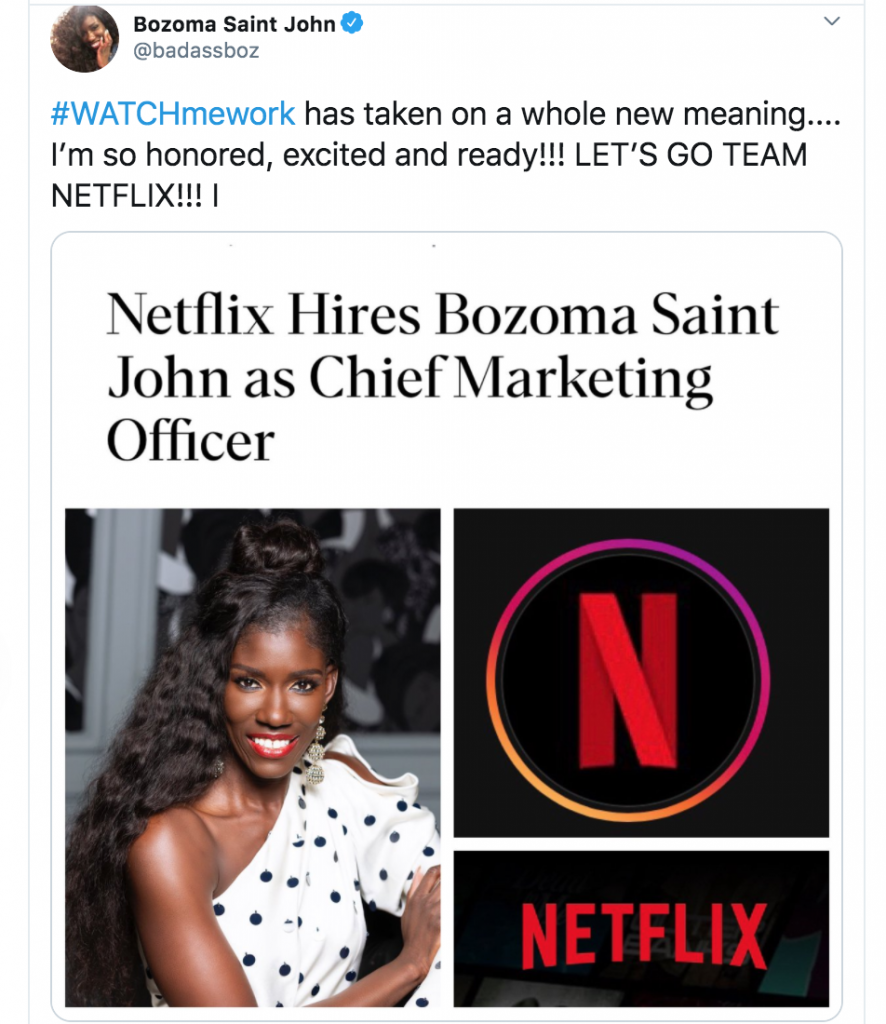 "#WatchMeWork has taken on a whole new meaning…I'm honoured, excited and ready!! Let's go team Netflix!!!" She tweeted confirming her new role.
The mother of one, is also a staunch advocate for women's empowerment and equality. She has recently launched The Badass Workshop of which she says through her twitter account: I'm often asked how I did it; how I do it; how I'm doing it. Well, here it is!! I've built the Badass Workshop with the intention to architect the greatest self."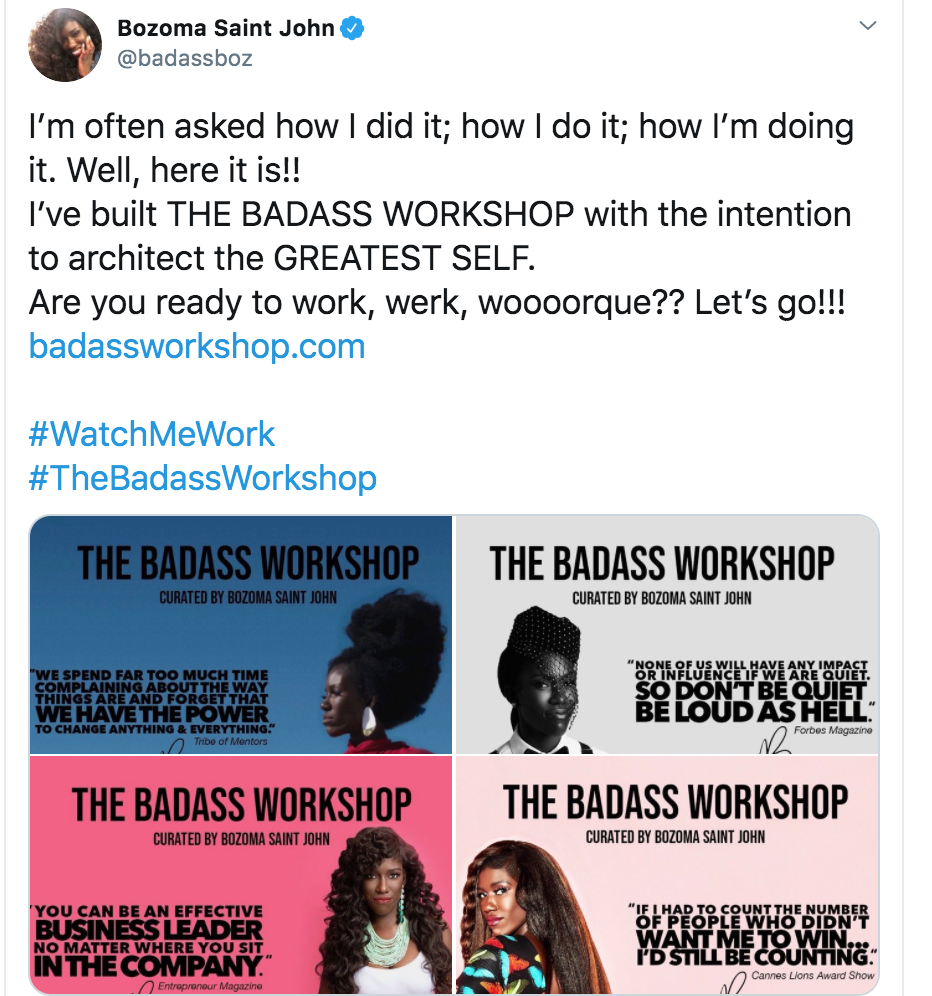 Badass Boz, as she is calls herself, is of Ghanaian heritage and was one of the famous faces during the much-heralded "Year of Return", a collaboration which brought together black celebrities and business from America to Ghana. The event's aim is promote economic and cultural collaboration between Ghanaians and influential people of African descent living in America, or those who have returned or settled in Ghana.