"Success is only meaningful and enjoyable,
if it feels like your own."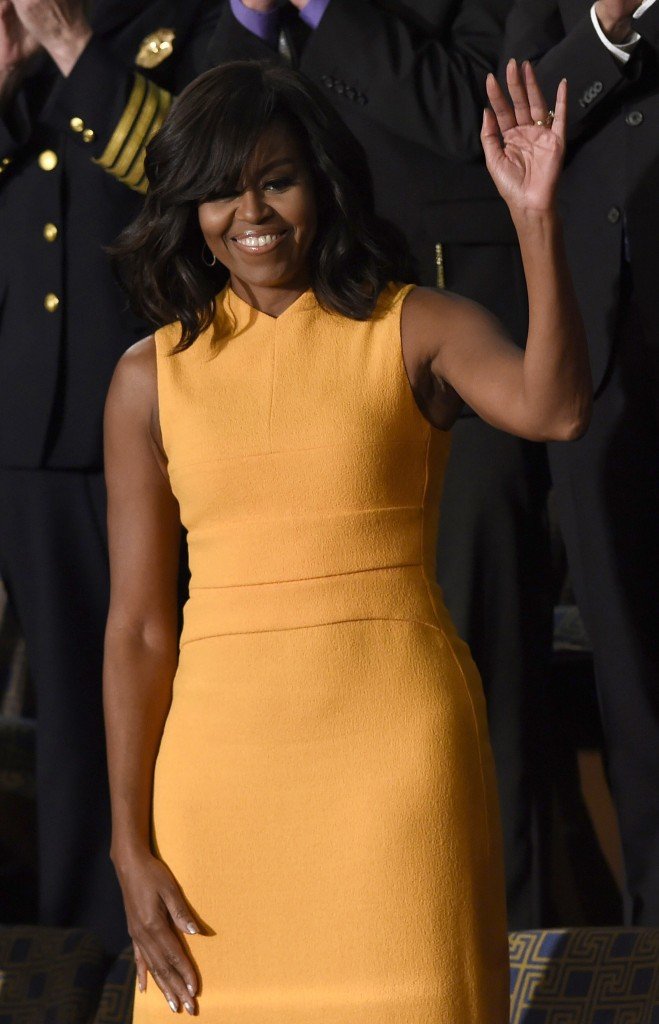 It is the dress that almost overshadowed her husband's last State of the Union address last January, and nearly "broke the internet" – this marigold-yellow Narciso Rodriguez design. But, to borrow the words of her fellow First Lady, Monica Geingos of Namibia, "women should not be judged by what they wear". And we agree. Therefore, in as much as we adore Michelle Obama's uber stylish fashion, we adore her more for her beliefs and wisdom.
Here are our top 12 favourite and headline-deserving Michelle Obama empowering quotes:
Africa is a fundamental part of our interconnected world. And when it comes to the defining challenges of our times – creating jobs in our global economy, promoting democracy and development, confronting climate change, extremism, poverty and disease – for all this, the world is looking to Africa as a vital partner.
I know that as your generation looks back on that struggle (against apartheid), and on the many liberation movements of the past century, you may think that all of the great moral struggles have already been won? As you hear the stories of lions like Madiba ( Nelson Mandela), [Walter] Sisulu and [Albert] Luthuli, you may think that you can never measure up to such greatness. But while today's challenges might not always inspire the lofty rhetoric or the high drama of struggles past, the injustices at hand are no less glaring, the human suffering no less acute… So make no mistake about it. There are still so many causes worth sacrificing for. There is still so much history yet to be made.…You can be the generation to ensure that women are no longer second-class citizens, that girls take their rightful places in our schools. You can be the generation that stands up and says that violence against women in any form, in any place including the home – especially the home – that isn't just a women's rights violation. It's a human rights violation. And it has no place in any society.
The truth is, I loved the life we had built for our girls… I deeply loved the man I had built that life with…and I didn't want that to change if he became President… I loved Barack just the way he was… You see, even though back then Barack was a Senator and a presidential candidate… to me, he was still the guy who'd picked me up for our dates in a car that was so rusted out, I could actually see the pavement going by through a hole in the passenger side door… he was the guy whose proudest possession was a coffee table he'd found in a dumpster, and whose only pair of decent shoes was half a size too small… But when Barack started telling me about his family – that's when I knew I had found a kindred spirit, someone whose values and upbringing were so much like mine. You see, Barack and I were both raised by families who didn't have much in the way of money or material possessions but who had given us something far more valuable – their unconditional love, their unflinching sacrifice, and the chance to go places they had never imagined for themselves.
One of the lessons that I grew up with was to always stay true to yourself and never let what somebody else says distract you from your goals. And so when I hear about negative and false attacks, I really don't invest any energy in them, because I know who I am.
Success is only meaningful and enjoyable if it feels like your own.
You may not always have a comfortable life and you will not always be able to solve all of the world's problems at once but don't ever underestimate the importance you can have because history has shown us that courage can be contagious and hope can take on a life of its own.
Barack and I were raised with so many of the same values, like you work hard for what you want in life. That your word is your bond, that you do what you say you are going to do. That you treat people with dignity and respect, even if you don't know them and even if you don't agree with them.
Do not bring people in your life who weigh you down. And trust your instincts. Good relationships feel good. They feel right. They don't hurt. They're not painful. That's not just with somebody you want to marry, but it's with the friends that you choose. It's with the people you surround yourselves with.
Every mother works hard, and every woman deserves to be respected.
No country can ever truly flourish if it stifles the potential of its women and deprives itself of the contributions of half of its citizens.
You don't want to be with a boy who is too stupid to appreciate a smart young woman.
When you have worked hard, and done well, and walked through that doorway of opportunity, you do not slam it shut behind you. You reach back.
Do not bring people in your life who weigh you down. And trust your instincts. Good relationships feel good. They feel right. They don't hurt. They're not painful.