It has been described as the lookbook and designs of the year 2016, so far. The new collection by House of Deola – (Formerly Deola Sagoe) launched in two series in March, has truly captivated fashion enthusiasts and lovers of African design talent. Our Editor reGina Jane Jere caught up with the inimitable talent behind the aptly named Komole Kandids collection – Deola Ade Ojo.
---
 NAW: This collection is not just about design is it? it is a story. Tell us more about the narrative and inspiration behind Komole Kandids. What sets this collection apart from what you have done before? We hear you took 12 years to research and apply everything that makes Komole Kandids  different.
Deola: I guess I'm always in the "lab" – the fashion lab – experimenting on one thing or the other. I have these ideas about fabrics I would like…I imagine fabrics. Sometimes I imagine the way a fabric will move on the body, or I imagine a fabric that plays with light a certain way. This is just something that I have always done, and because they are imagined, and therefore don't yet exist, I end up back in the lab, trying to make them real… I'm not precious about this process – it's just something I do.
So, years ago I had wanted to make a dress and I could not find the right fabric. In the end I used lace, but I remember not being satisfied with it because there was a certain idea I was trying to communicate, and achieving this really required an indigenous fabric. Also, the construction of the dress needed a certain firmness to capture our traditional silhouette, it needed to hold firm in places and allow movement in other places. Though the lace looked very pretty it wasn't really designed to achieve these other requirements, so I started working on making a fabric that could. Over the years I would pick it up and then lay it down again, being more involved with whatever was pressing at the time. So, yes, it did take about 12 years to really master the techniques, create the look and feel and the structural integrity that is the Komole Aso Oke you see today.
After coming up with this fabric, I re-discovered my love of weddings, and everything that that goes into the occasion. In Lagos there is a wedding every weekend so you would be forgiven if you got a bit bored, but that is possibly why there is kind of a wedding revolution happening in Nigeria right now. As if to stave of the monotony Nigerian weddings have reached a whole new level of theatre and artistry. They have become events on a par with any theatre night out or going to a concert of your favourite artist. At one such wedding I had this thought that a Nigerian wedding is like a royal wedding anywhere else in the world. That idea kept echoing in my mind and soon all the connections, correlations and coincidences began presenting themselves.
 I took 12 years to really master the techniques, create the look and feel and the structural integrity that is the Komole Aso Oke you see today.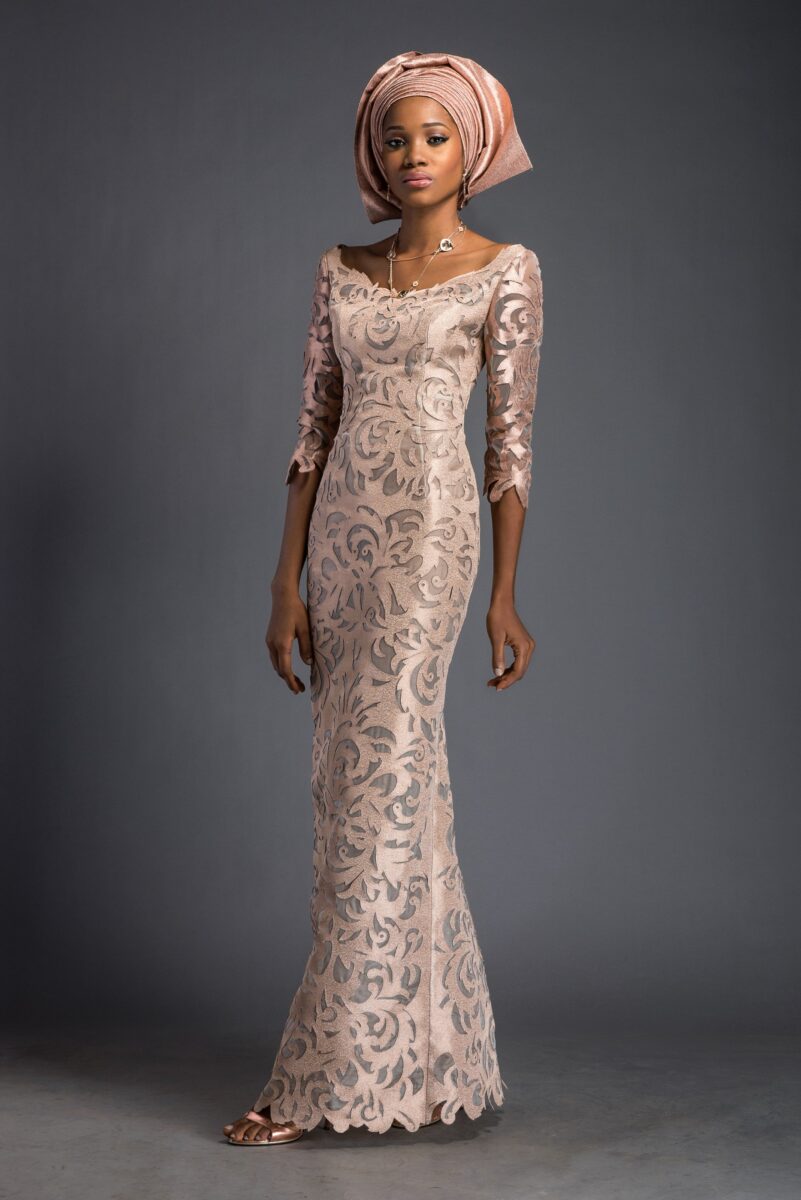 Originally Aso Oke fabric was reserved for weddings and very special occasions – our cultural 'haute couture' fabric. Therefore making a collection for "wedding wear" was only natural. The designs literally flew on to my dress dummy and in no time we were making the pieces. My daughter Teni, who works with me (and with her sister runs the fashion label "Clan") had this vision about a modern bride, and we discussed the balance of contemporaneity and tradition that refreshes, but keeps "classic", classic – that's how this collection came to be.
They say fashion is a psychology; you have to know whom you are designing for and why. Who is a Komole Kandids woman and by extension a House of Deola woman?
 Fashion is an ever-evolving state of being, because people continue to evolve, and views change, circumstances change. My customers are women of any breed. In general, I can say that they have an independent spirit, they have love of beautiful things and have an intimate relationship with beautiful objects, clothes, fabrics, scenes etc. But I am also aware that there are also those who are more into function, status [in their society].
 Every piece in this collection looks unique, yet the collection is a unit. How did you execute that? The thought-process is so evident that this goes beyond mere bridal fashion.
Pardon the pun, but the thread that runs through the collection is the fabric! This fabric is very particular and has a very clear visual language, so this unites the collection. Also, because I was in the mind space of thinking about weddings, not just. bridal wear, but thinking about the whole troupe: bride, mum and sisters, and even friends, those you expected at your wedding and those you did not – let's face it, it happens – the collection became an array of clothing that represents these different perspectives within an agreed frame. So, a certain stylistic grammar punctuates all the pieces.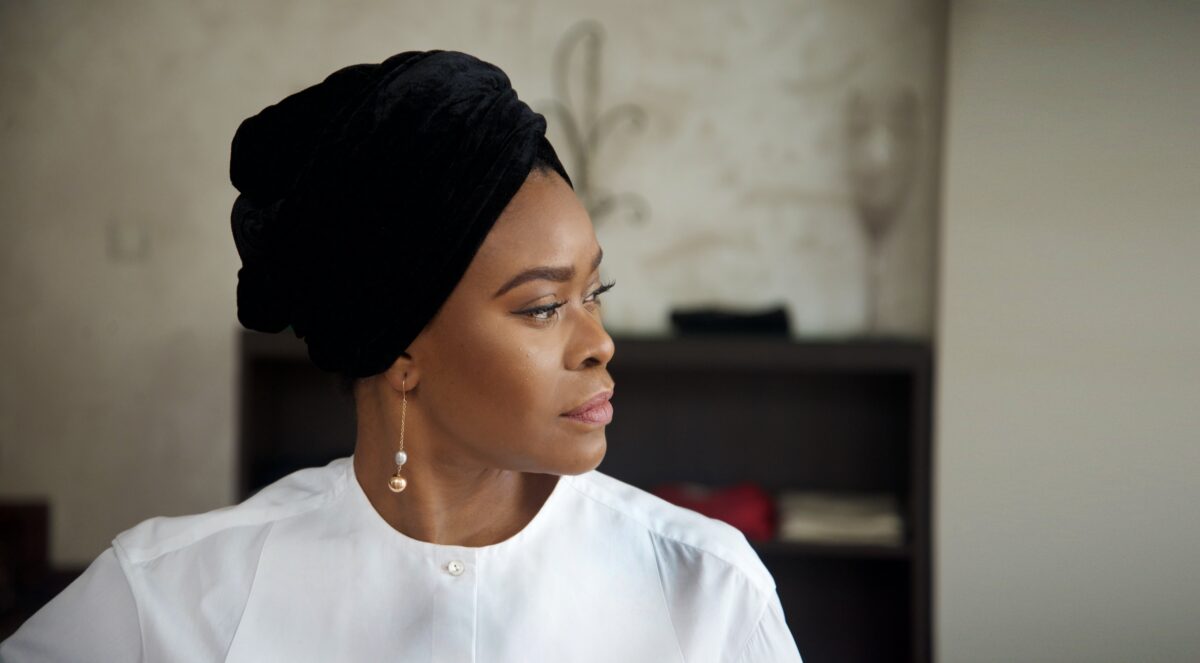 There were so many misconceptions about Africa, Africans, African style. Today, the conversation is better but we're still not at the level we need to be.
You have been very consistent in your designing career? What are your earliest collections as a designer? When did it click that this is what you wanted to do? And how does that infuse into Komole Kandids?
I was telling somebody the other day that before I knew what a designer was I was already behaving like one because even as a kid I was very willful about the way I looked, what fashion I liked, and the way I would put my outfits together – styled myself really. And I ended up styling my friends – I didn't know it was called "styling", they just wanted to wear the things that I wore – It wasn't a big deal. I was into 'being', being aware, being reflective of where I'm from – nothing is more important than identity to a young woman growing up.
In global terms, I would say the MNET Face of Africa, 1998, took things up a notch. At that time I was very keen on making a statement, and cultural identity was a big part of that statement. You've got to think back to that time in the world. There were so many misconceptions about Africa, Africans, African style. Today, the conversation is better but we're still not at the level we need to be.
I always found Aso Oke a treasure trove because to me it is living and totally underestimated. At the M-Net/Anglo-gold Africa Designs in 2000 my collection was based on fringing Aso-Oke, and I remember people being quite shocked at the versatility of the fabric. So even back then I guess we can detect my design attitude, and how it involves re-imagining something that people think they know, and have categorized, and thereby underestimated. Clothing is communication, and generally you speak from your knowledge base – you say what you know – so with using Aso Oke in my designs I'm contributing to the global conversation from my perspective – I'm speaking in my own language as it were…
We have been following the feedback and reaction to this new collection on online platforms, here is one of our favourites; "I just love how Deola Sagoe consistently makes other Nigerians look like they are still learning." How do you react to that? How does that make you feel?
The Nigerian fashion industry has grown in leaps and bounds in recent times and I have been happy to be a part of that. I'm glad that I have been able to steer things over the past 25 years, more than 25 in fact, so that people have an expectation of quality with my brand, and they feel that this is delivered every time. It wasn't easy mind you, but it was worth it. I will admit that I didn't really understand, feel, the power of social media until we did the online launch of Komole Kandids. It's not that I didn't use social media before, it's just that this experience really made me feel it's power to connect people far and wide.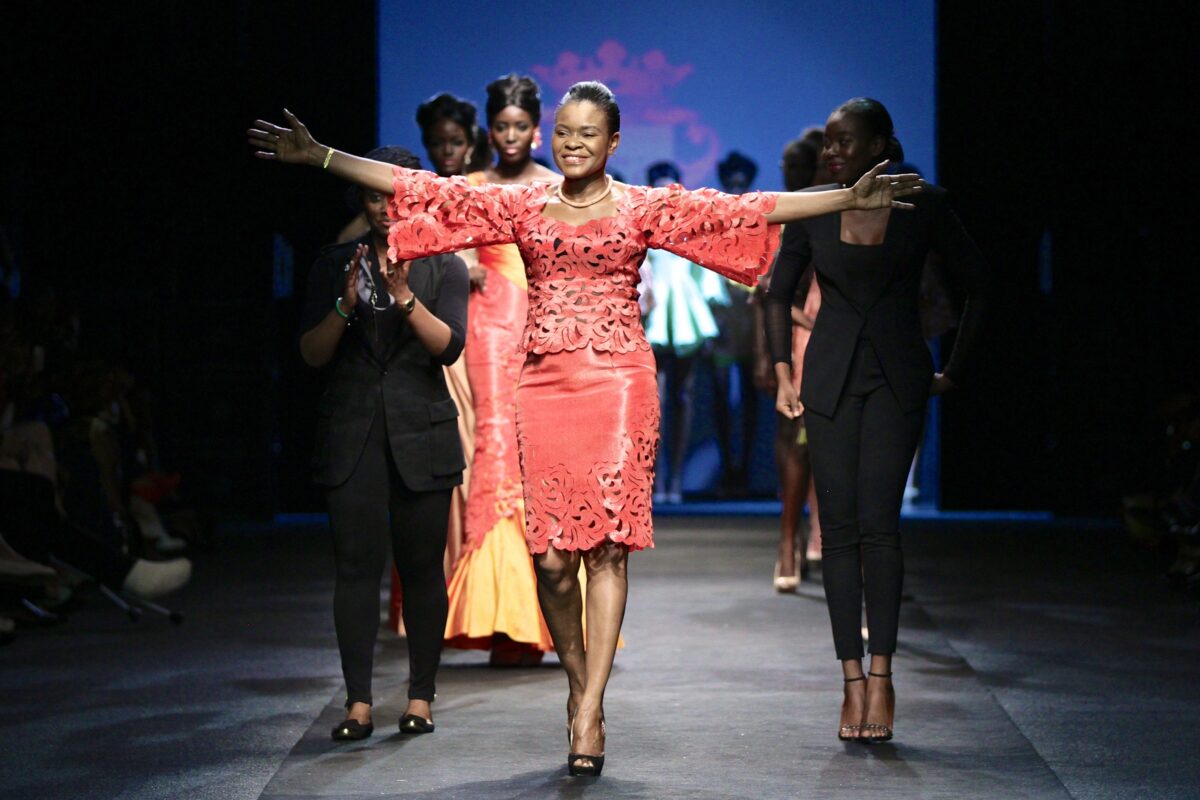 For over 20 years you have been unparalleled and unmatched. With this collection, the broad view is "Deola has outdone herself'. Have you? What next?
Everybody who is an entrepreneur knows that you are never done with making your brand or business the best it can be. It's funny, I actually only re-live the significance of a collection or a design, through the eyes, expression, behavior of other people. For me it's behind and there's a new thing that I'm excited about and can't get enough of.
 House of Deola is not just an African brand, it is a global brand, yet you still retain your tradition and roots. How hard is it to push and overcome the boundaries many face in this industry? 
 The world is not a linear, one dimension, one size fits all, kind of place. There are many views and ways of being, and it comes down to personal preference as well as authenticity, with a serious amount of business mindedness thrown in – so anyone who is doing well in the fashion business is a tough cookie. I've done it my way, others are doing it there way. Having something that makes you unique is great, but some people are great at business, and it may not be about being unique or authentic to them.
Komole Kandids is a picture in time of our answer to a brief we set ourselves. It feels good because we feel that we got the answer right, and many agree. It feels even better because we know that we didn't do anything different to how we always go about our process, so we know that our principles are right.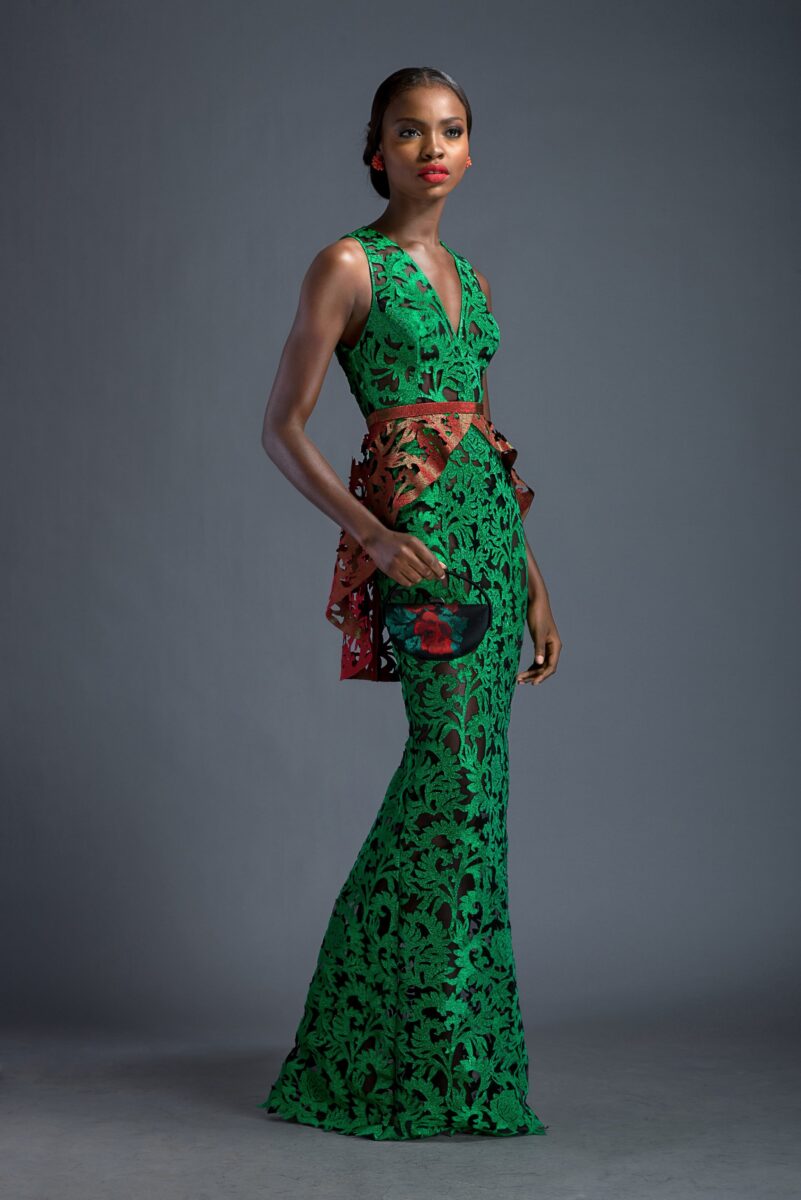 They say we all acquire a lot from our surroundings growing up and that feeds into what we grow up to be. Has that been the case with yourself? How did growing up influence you to become a designer?
 Yes, definitely, I'm the quintessential case study of how nature and nurture combine to make a life theme. Quite apart from simply being a great woman, my mother definitely created the environment where I was able to really discover myself and formulate my own point of view. At the time off course, I took it for granted but now being a mother to three of my own I realize that this woman really had grace – she made it look effortless. Aso Oke has had a part in my family's life for generations. My grandmother sold Aso-Oke fabric, and my mother was well known for making flawless, detailed and very well fitting clothing. That was her thing, detail and craftsmanship, so I grew up with that around me – it was an unspoken philosophy, cutting corners was just not anywhere around…
Both my parents were very stylish – they were self aware and self assured. My dad, if you meet him today, you can just tell is a very self-assured person. When I look at pictures of them back in the day, you get the feeling that they personified the prospect of the possible – what's out there, what we can accomplish together, how good it's all going to be… So, it's no wonder that I dream big, I do dream lavishly, and that shows itself in my work. I'm just not into a grungy lifestyle – if I ever do a "grunge" collection it would be one hell of a lavish grunge!
Your  daughters are also following into your footsteps with their highly acclaimed fashion brand CLAN , but you must be a very proud mum. What is one of the most significant advice that you have given them? Did they play a part in this new uplifting collection?
My girls have followed in the tradition that I had with my mum of being close to me and working around me. This is important because I think it's key when growing up that you "know how the sausage is made". It's no good being protected from the truth, and work is often hard, and achieving things usually takes a steely determination…
Passion is the prerequisite, but process, discipline and learning make for a more bulletproof personality. They are 3 individuals in their own right – frankly, they scare me sometimes with the way they casually spray their talent around. They are fearless, but that's that age, and I'm proud of what they have achieved. We are in the space right now where we discuss business like four old heads sat around a table. They give their views, I give mine. We listen…
How do you describe Komole Kandids in a nutshell?
Couture Royale!