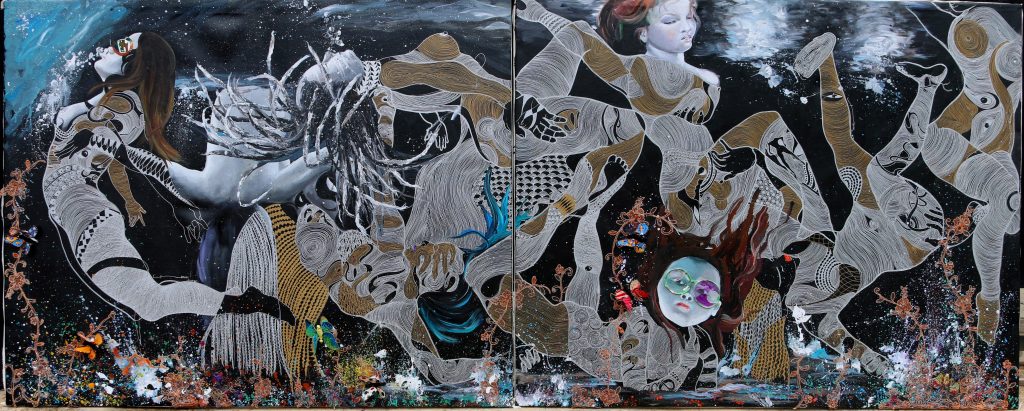 Interview By Belinda Otas
 Ndidikanma Emefiele's is an unconventional artist. Her spellbinding art consistently engages with the feminine form, exploring and questioning the social, cultural and religious norms about gender roles in society. At 29, no subject is off limits for Emiefele. From reposition the identity of women within the confines of a restrictive society and tradition or culture dictates, to her explorations of female sexual power – she is resolute. She explains why.
NAW: What is the impetus for your art?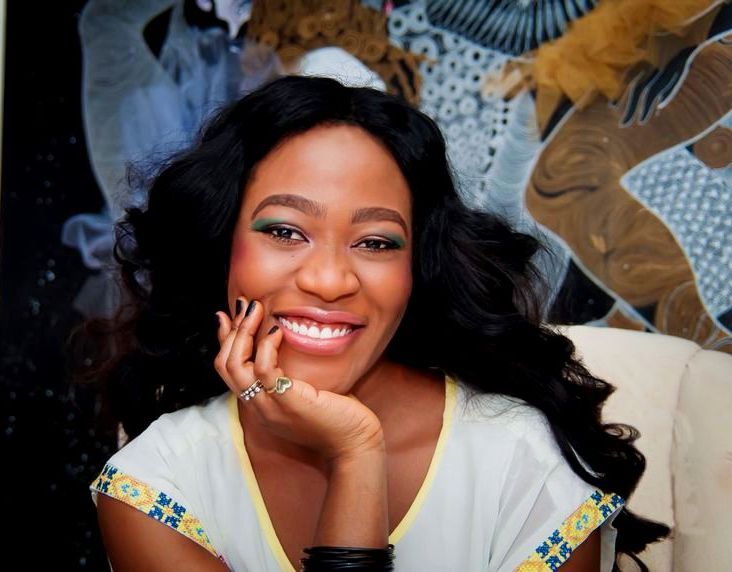 Ndidi Emefiele: Growing up in the northern part of Nigeria, meant waking up to the daily realities of what being a woman in a constricting space, often confronted with – social, cultural and religious interests and pressure. The woman is seen as a readily and sellable commodity in an open market which makes it increasingly difficult for her to thrive. I am using my work, the Rainbow Series to reframe, in a diametrically opposite way, the image of what I grew up to know as an ideal woman. I make bold images, endearing figures with piercing gazes that embody the cultural battles over the body of the female. Aware of the dangers she faces and the misogynistic culture that she lives in, which promotes masculine domination.
So the feminine form is a big part of the inspiration behind your work?
Yes, I am definitely inspired by women, especially the strong black woman who is often marginalized in society because she represents something regarded as unacceptable. I use my pieces to tap into the experiences of those around me, sometimes subconsciously, representing the things I value and appreciate in women – beauty, strength and dynamism.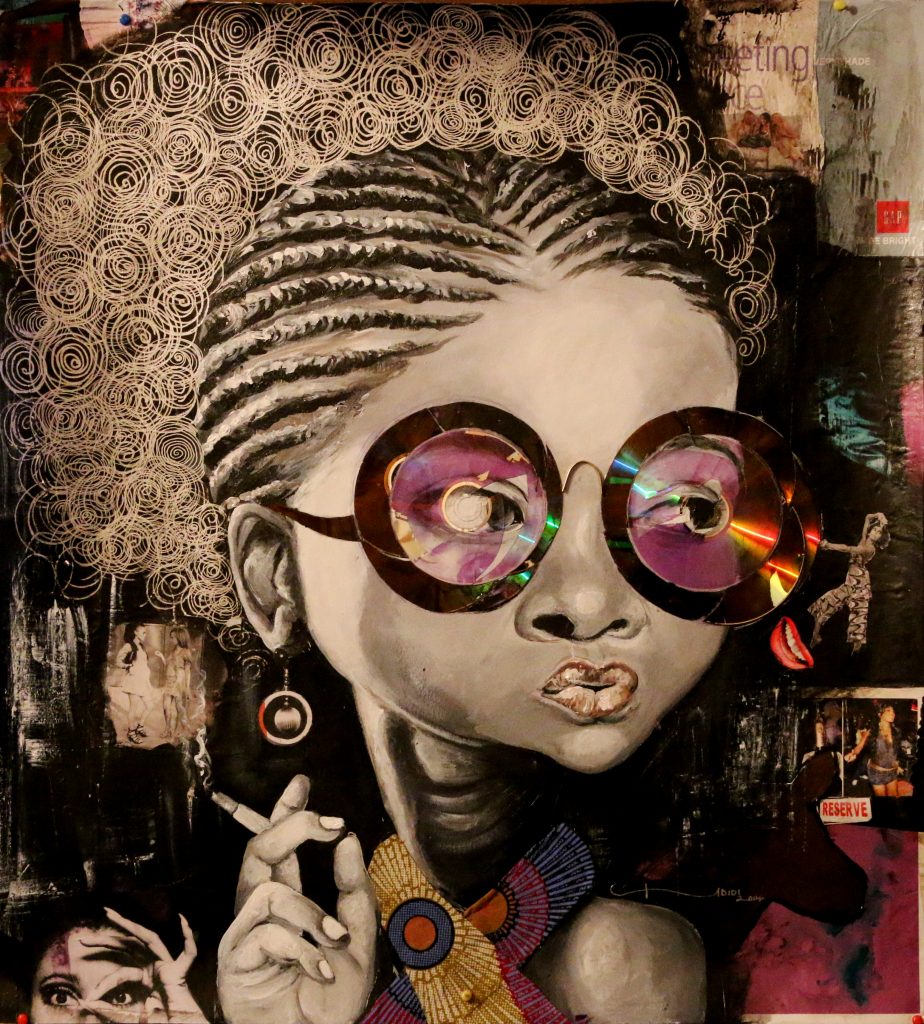 Who is the woman in the Rainbow Series?
She is a reflection of light, an illusion as she constantly changes and evolves. She's as beautiful as you think her to be and as toxic as you make of her. Every observer sees her differently depending on what angle and how you choose to engage her. She is like the rainbow spanning a continuous spectrum of colours with deep meaning imbedded in her. She is modern, enlightened and wants to be in the know. She is a capital player, a pacesetter and very fashion forward.
How did you get started and what propelled you to push your artistic boundaries?
Art wasn't an option. It was something I had to do regardless of whether I succeeded at it. Pursuing a career, as an artist was not something that family and other concerned individuals could digest easily. So it was left to me to prove to them that there was more to art than they were able to comprehend. That was motivation for me and if I was going to be an artist, especially as someone who was already going outside the norm, why not take it all the way and push the envelop just as much as I enjoy getting immersed in producing the work. I seek to and want to transcend beyond the borders of Nigerian/African Art. Success on every level is what drives me to push and redefine whatever boundaries existed.
Your work is nonconformist, how do people react and respond to it?
It's usually mixed reactions; early on I had people repulsed by some of my creations. I was commissioned to do some work for the home of a commissioner in Nigeria, and when I was done with a particular piece for his daughter's room, he rejected it on the grounds that it would scare his little girl. And there is the other audience who are not grossed by what they see, but are rather fascinated. They are delighted to see something different, unconventional and they describe it as very unusual and uniquely appealing.
I make bold images, endearing figures with piercing gazes that embody the cultural battles over the body of the female. Aware of the dangers she faces and the misogynistic culture that she lives in, which promotes masculine domination.
From fashion to pop culture to gender. Why is it important for you to take on subjects and issues that affect women? What's the story about women?
I am a woman, I have four sisters and friends that are women. I can recount experiences upon experiences of women I know, unpleasant experiences at that, all because there is so much that society foist on the woman. In my art, I find ways to redefine the woman. A woman in this part of the world is not considered whole until she is legally attached to a man regardless of her contribution to society. Her hard work and independence is looked down upon. Some women even become suicidal due to the pressures from those around them to settle down and marry. If and when a woman eventually gets married and there is delay in conceiving a child, it would be assumed she had messed up her womb at some point in her youth. However, the man is absolved of blame or fault. These are the stories I want to tell.
Let's talk about the materials (discs, pens, among others) that you use for your art. How much emphasis and thought process goes into them and what role does your environment play in that process?
Working with mixed media is a preferred a way of working for me. It means I can work without restrictions. I enjoy using disparate elements to form aesthetics; I use everything I have right around me. I am also using other elements that are essential to my practice such as music and fashion. Dressing influences and shapes the appearance with significant impact on the construction of social identity, roles of men and women have influenced clothing and fashion and vice-versa. Hence, my decision to put my recent rainbows in suit and name them the "Rainbow Brigades." The suit is traditionally thought to be a symbol of power and in this case the form-fitting suit suggests some consideration for sex appeal. The high padded shoulders are giving the woman an air of confidence, suggesting that sex and power do co-exist. I try to stay away from the static. Art should be interesting, arresting, and vibrant.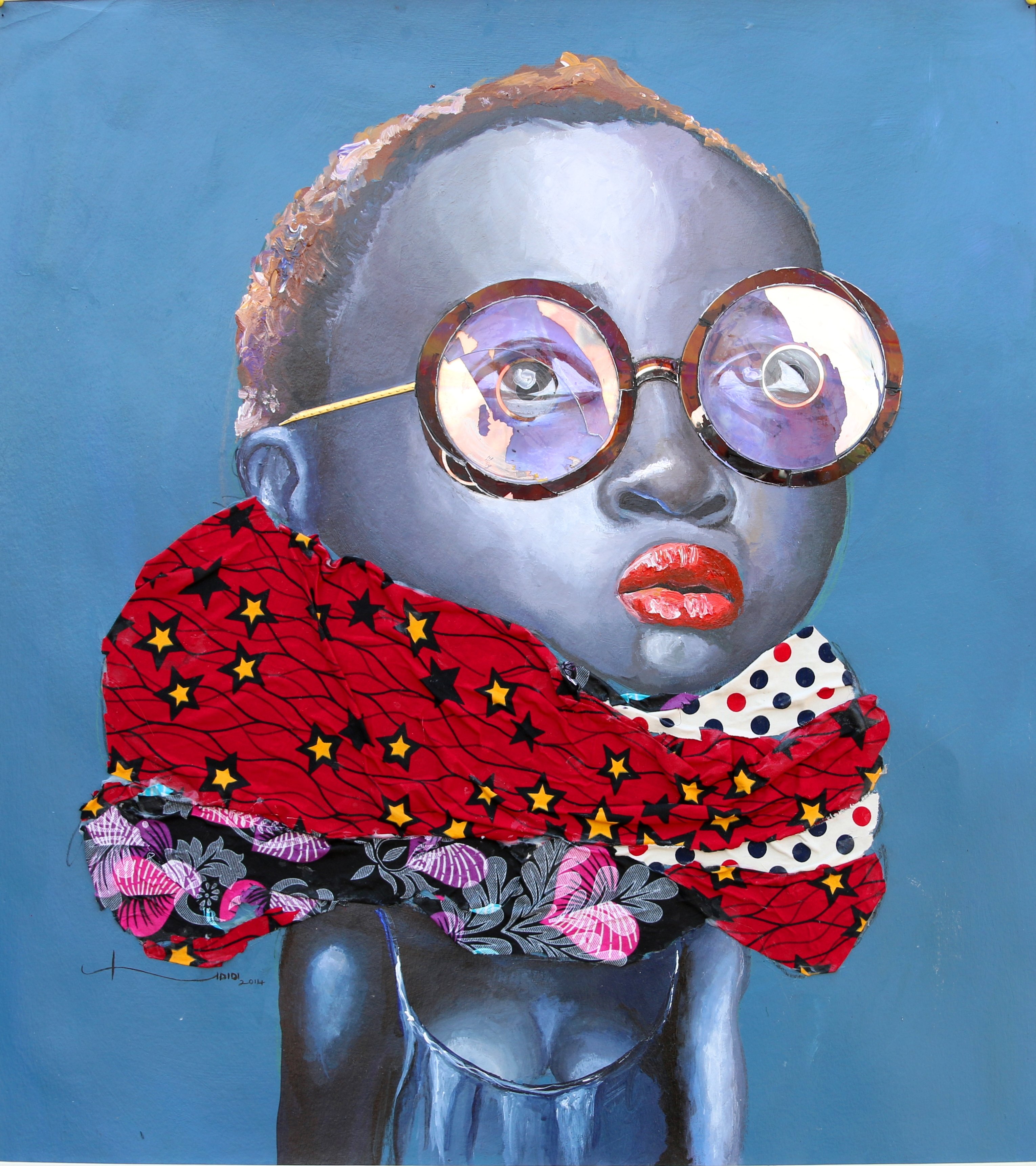 You talk about your love of playing with eyeglasses. Can you explain what led to this becoming part of your signature style as an artist?
I vividly remember being drawn to kids who wore glasses as a little girl. I saw them as powerful. I considered them to be more brilliant than those of us who didn't wear any, for some reason these kids always stood out. I almost faked an eye condition so many parents would get me my own pair. That's when my fascination with eyeglasses began. I got myself one as soon as I could. The glasses became a shield, a spectacle that created the broader vision for me and I could hide behind them when I wanted to. It was becoming personal and was like finding that mischievous friend who knew very well how to soothe your every need. Now they are a symbol of style and a mark of identity.
In one of your series, Horny Ayo, you explore sex/sexuality. As an artist you have liberty to explore issues that others might shy away from, what are some of the boundaries in society that you like to push?
People despise anything that discusses sex openly. It would rather be dealt with privately. Some are grossed by images relating to these. Horny Ayo has a story behind. Ayo is a friend who I was having a phone conversation with one day, and he said he had woken up horny. So I came up with the seductive blurred images I perceived could be going on in Ayo's head. I try not to over analyse an idea. I trust my inner voice and I go with the pieces as it speaks to me. I don't restrict myself.
More women artists are coming to the fore in Africa and the diaspora. What's the role that you think women in particular are playing at a time when art from Africa is gaining more prominence internationally?
In my art, I find ways to redefine the woman. A woman in this part of the world is not considered whole until she is legally attached to a man regardless of her contribution to society. Her hard work and independence is looked down upon.
The level of talent displayed by the women artists is incredible. You know back in the day, when you attended exhibitions, you could easily tell this is a woman's work. I feel that gap has been bridged. There is so much attention to detail, the storytelling is in a class of its own and the work of women artists is full of depth. Women are at the core of this artistic development and it feel likes for once people are ready to hear the voice of the woman artist and see her what Art is about. I am amazed by the sculptures of Sokari Douglas Camp, very electrifying. Nike Davies-Okundaye, I have learnt so much from her. She is like a mother to so many young women artists, always willing to accommodate and tutor, and her skills are impeccable. I have to mention Ndidi Dike, whose work I admire. I also used to go online to look up the work of the late Nigerian artist Chinwe Roy who was commissioned to do a portrait of Queen Elizabeth. I also love the work of Wangechi Mutu, the Kenyan artist based in the US.
Although, they weren't many female artists I could look up to growing up because the art scene was mostly dominated by the men, I must say that is changing rapidly and there is a strong contingent of women artists that young women artists like myself can now see and say yes, I can do this.
You create in series – The Rainbow Series, Waiting and Horny Ayo, which of them carries a weight of significance for you and why?
Definitely Waiting. I use my art to speak against the unsatisfactory practices and atrocities against women. We wait for change. We can't go back and expunge the deeds but we must preach about accepting our individuality and liberate our minds from the stereotypical woman.
 Ndidi's Rainbow Series  ( below)  has been part of the Global African Profiles  which has been showing at the Gallery of African Art in London  since April.  The exhibition concludes 3 July 2016.