As she exclusively opens up on many issues in an exclusive interview in the April/May Edition of the New African Woman magazine: from media sexualisation of women, ideal beauty, suffering from depression, supporting Hillary Clinton to raising her young daughter in Donald Trump's America – it is clear that the renown Nigerian author, Chimamanda Ngozi Adichie, cannot be fitted into just one box – 'feminist'.
What is Power?
The content in this edition raises pertinent issues concerning the state African women still find themselves in after over five decades of political and economic independence across the continent.
The magazine believes that Power – the important and inherent phenomenon has always played a critical role in the African discourse: from the bedroom to the boardroom, from a science class to parliament, from the village headman to a president. Yet it is something that is denied and has also largely failed the majority of African women. Points which all our interviewees discuss, and on which the Nigerian Cover star minced no words as she tackles the issue with her now classic feminist soundbites, which this time she even brings in the widely-embraced christianity into the frame:
"Lately, I have been thinking about how Christianity works and is such a force on the continent of Africa. I actually believe that it's possible to forge a feminist platform around Christianity…My point being people who are feminists and see religion as part of the problem, which I think is also true, but I also think that within religion, we can in fact create a platform that is feminist.," she tell the magazine.
When asked to comment on why she supported Hillary Clinton whose legacy in Africa when she was Secretary of State, has been widely condemned in many African circles,Ngozi Adichie, who spends her time between her home country Nigeria and the United States answers:
"You are talking about her intervention in Libya for example. I don't expect American policy to think of Africa's wellbeing as a primary thing. Let's be realistic, America's policy will be about America and protecting America. Personally, I thought that the whole Libya thing was a complete disaster and was ill-conceived…but I don't take it as a personal failing of Hillary Clinton. If anything, I think of it as a failure of American foreign policy."
"Our interview reveals that there is more to Chimamanda, than the celebrated feminist that everyone can't get enough of these days. For us, the power that she is exerting on the global stage, which is jolting the powers that be, to rethink the way women, more so African women are viewed and treated, is very exciting. She an added emblem to the empowered women who are empowering others." explains the magazines Editor reGina Jane Jere.
While the edition celebrates power champions, such as its Cover star, Chimamanda Ngozi Adichie, as well as other exclusive interviews including with the UN Women executive director and former South African deputy president, Phumzile Mlambo-Ngcuka, and President of Mauritius Dr Ameenah Gurib-Fakim (the first female to hold the post in the country's history) – the magazine also highlights the harrowing stories of powerless women, such as widows in Tanzania – for whom Power is a word totally removed due to ingrained cultural norms that render them completely powerless.
The "same-sex" stories from some remote parts of Tanzania where widows are forced to marry young girls to secure or gain rights to land for example, are a true reflection of how Power fails people, more so women and girls.
"How can this still be happening in a country that has one of the so-called most progressive presidents in Africa?" asks a flabbergasted New African Woman Editor reGina Jane Jere as she calls on authorities to look into and change these women's plight.
Afros on the catwalk
Continuing with the spirit of empowering African and black women, the issue also gives a special spotlight on the welcome inclusion of black models with natural Afro hair on international and western fashion catwalks – a hitherto rarity, with the magazine making a rallying call for more of such diverse beauty inclusion.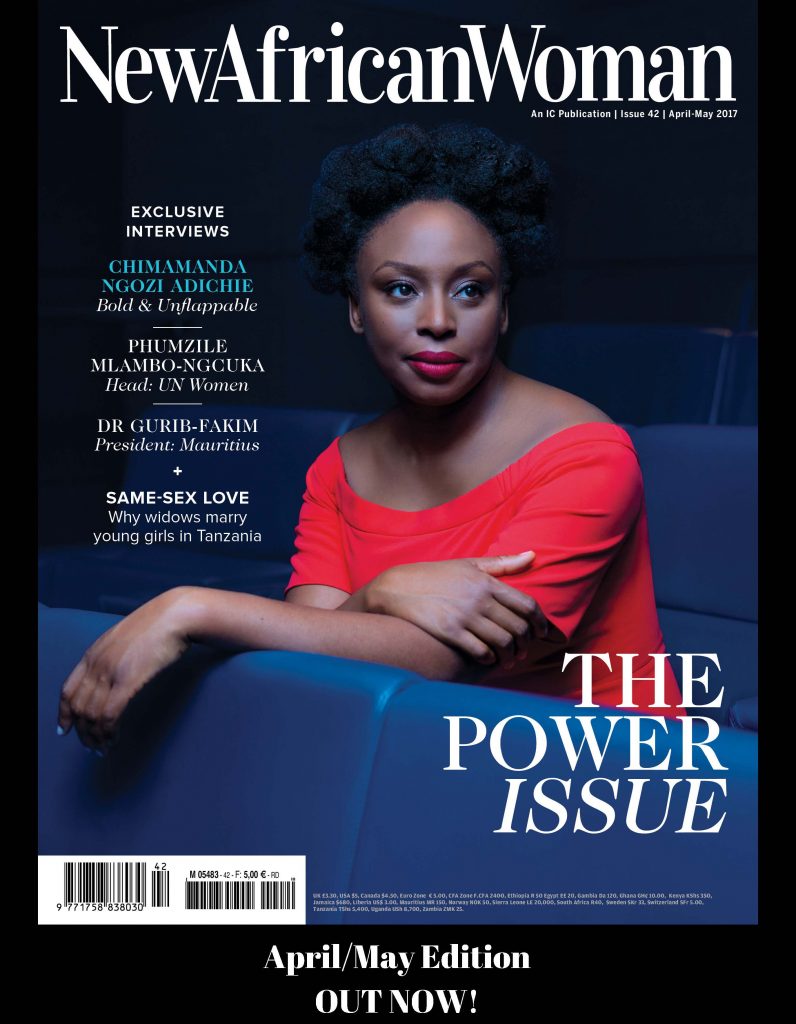 =====================================================================================
Notes to Editors:
The New African Woman, which is also published in French, is one of the 8 titles from IC Publications – publishers the pan-African monthlies, New African and African Business. The NAW offers intelligent, meaningful and inspirational coverage in areas that embrace and celebrate the African (read Black) woman's diverse accomplishments and aspirations in all spheres. The award-winning bi-monthly magazine is the only women's publication covering the entire African continent and its Diaspora.
For more information about this edition contact:
Tel: +44 (0) 7376 158 391 or +44 (0) 207 841 3210