The second edition of the New African Woman Magazine Forum and Awards were successfully held in Dakar – Senegal The highly-acclaimed event celebrates and honours African women who made the most impactful change in their countries or communities in the past 12 months. After weeks of public nominations and a rigorous special judging process in 12 categories the 2017 winners emerged and here is a bit more about each of the 2017 winners:
New African Woman of the Year: Fatoumata Jallow-Tambajang – Gambia

Minister of Women Affairs and Overseer – Vice President's office. The fearless human rights activist was instrumental in galvanising the opposition that eventually beat long-term now exiled leader Yahya Jammeh. A women's rights activist for over two decades, in 2016 she was appointed mediator and engaged the country's opposition parties, earning her the accolade of "the architect of the coalition" that ended the era of one of Africa's most publicised strongmen.
New African Woman in Politics and Public Office: Amina J. Mohammed – Nigeria
The new United Nations Deputy Secretary has played key roles in both the current Sustainable Development Goals (SDGs) and the Millennium Development Goals (MDGs), on how both agendas impact Africa – more so its women. Her new role at the prime world body puts impetus in the ability of African women as leaders.
New African woman Award in Business: Salwa Idrissi Akhannouch – Morocco
A serial entrepreneur and one of Morocco's wealthiest female entrepreneurs, she continues to build on the success of the Akwa Group (Oil & Gas) and Aksal, the retail and luxury group of which she is founder and CEO. She is currently building a six hectare shopping mall in Rabat which will house more than 200 shops and restaurants, a cinema, a national library, an archeological museum, and a cultural centre.
New African Woman in Civil Society: Chief Theresa Kachindamoto – Malawi
In a hugely patriarchal country which hitherto had one of the highest child marriage rates in the world according to UNICEF, she fearlessly took on the mighty and annulled over 300 child marriages in her village – sending them back to school. Her feat played an important role in highlighting the effects of early child marriages on the country's development, forcing the government to adopt a law totally banning marriages for all under 18 year olds.
New African Woman Award in Education: Tsitsi Masiyiwa – Zimbabwe
Lack of access to education for the most underprivileged blights most African communities – and this philanthropist is doing something about it through Higherlife Foundation – which she co-founded and runs with her entreprenuer husband Strive Masiyiwa). Among other education ventures, the not-for-profit organisation offers scholarships to orphaned and vulnerable children to give them a better chance in education. Over 250,000 children and counting, have benefited from her education fund.
New African Women in Health, Science and Technology: Dr Helena Ndume – Namibia
Selflessness does not come any better that this pioneering ophthalmologist and cataract surgeon. Through philanthropic donations and with the help of See International, she has to date performed over 35,000 sight-restoring surgeries on Namibians – completely free of charge.
Watch her at work:
New African Woman on the Rise (The Next Generation): Vivian Onano, -Kenya
African youth are increasingly getting more determined to make Africa a better place for their future. And this girls rights activist and UN Women youth advisor, is one rising star making her voice heard and was a deserving winner in category which received the most nominations.
New African Woman in Arts and Culture: Joan Okorodudu – Nigeria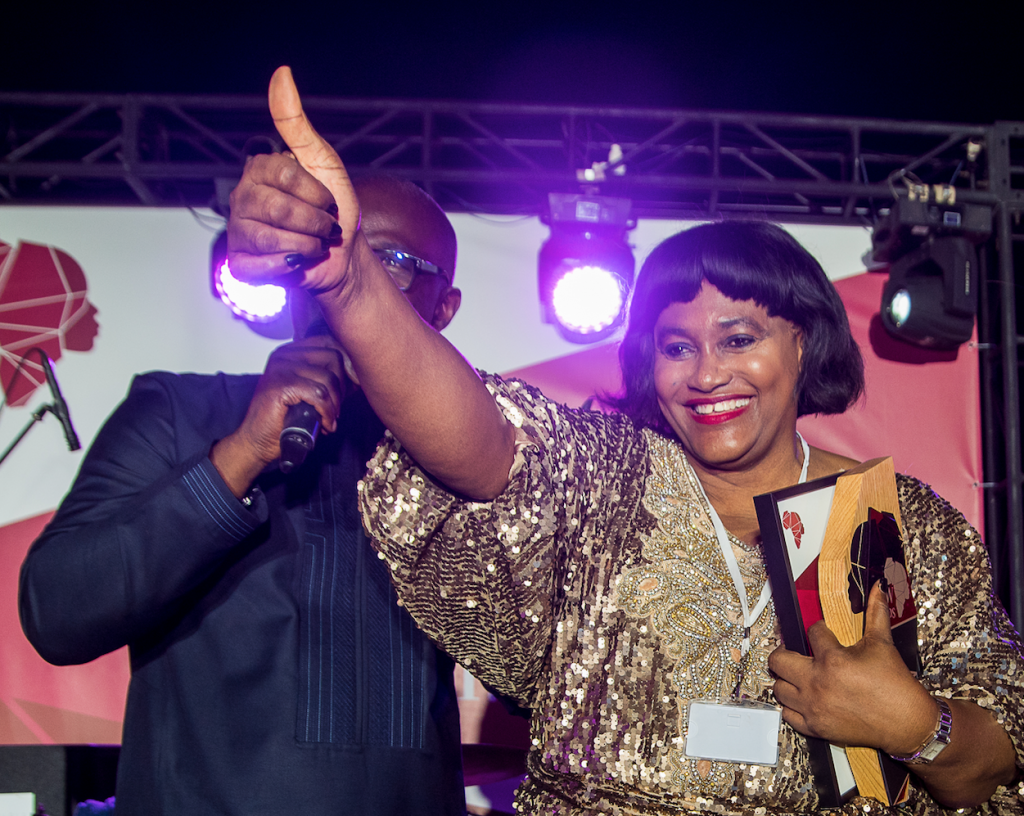 The beauty and fashion industry is a multi-billion dollar money-maker, with quite a hefty amount coming from the African market. Yet the industry still remains very Caucasian-led. That is what Okorodudu is changing through her fashion and modelling agency — the unwavering champion and promoter of the African fashion and Modelling industry raising the profile of grassroots African models to international acceptance, with a mantra "black girls rock and can!"
New African Woman in Finance: Binta Touré Ndoye – Mali
The Director General of Oragroup – a Malian banking enterprise – emerged the winner in one of the tightest categories of formidable nominations. Her appointment, to the nascent Oragroup, a major player in the African banking sector already operating in 12 countries and four monetary zones, has been received with excitement as yet another move in this male-dominated sector, towards empowering empowered women.
New African Woman in Agriculture: Rhoda Peace Tumusiime – Uganda
An indefatigable women's rights promoter, also renown for her relentless efforts in championing the role of women in agriculture and agribusiness both in her home country and when she was the African Union Commissioner of Agriculture and Rural Development – a role she held for 8 years until January 2017 – a tenure in which she ensured that the importance of food security in Africa, was a key component in the AU's new Agenda2063 developmental blueprint
New African Woman in Media: Amira Yahyaoui -Tunisia
A proponent of freedom of expression, this blogger and activists fearlessly ensures that her NGO – Al Bawsala – keeps government work in check by monitoring, highlighting and blogging about the Tunisian parliament other government institution, to keep the momentum of the "Jasmine revolution" that changed the course of the country's political history.
New African Woman in Sport: Fatma Samoura – Senegal
Her appointment as FIFA Secretary General, in May last year was proclaimed historic and progressive. She is both the first African and woman to hold this high position in the world's premier football body.