As we catch up with
with the multi-talented Zimbabwean-American,
it is clear that there is so much more Danai Gurira that the world needs to discover, for example
why she is dedicated to bringing stories about Africa to a global audience and amplifying the voice of African women.
Aside being Michonne, as an actress, activist and award-winning playwright, Danai Jekesai Gurira work and plays are visceral and searing, and explore the voice and visibility of African women. It is an audacious artistic stance for which she makes no apologies and she is as confident in her writing and acting as she is in her voice as an activist. It is with this same confidence and courage of conviction that she began writing complex stories about African women after she could not find any herself.
Her history-making, stereotypeshattering play Eclipsed announced her arrival on Broadway in 2016, to much critical acclaim. It was rewarded with six nominations for a Tony Award – one of the theatre industry's highest accolades – including for Best Play.
The initial inspiration for Eclipsed was an image Gurira saw in a 2003 newspaper article of the Liberian female rebel fighter, Black Diamond, known for her military prowess and ability to strike fear in the hearts of her opponents during the second Liberian civil war. Gurira's interest was piqued and a quest to know more ensued. By 2007 she was in Liberia talking to women who had lived through the war.
She returned to the US with the material for Eclipsed, a play that examines the reality of war and its brutal impact on women, told through the experiences of women being held as sex slaves by a warlord. For Gurira, this was a story that needed to be told because "telling our stories as globally as possible gives us a voice and central stage, allowing our voices to transmit as far as possible".
Today, Gurira is fully exploiting her platform from which to tell stories about Africa to a worldwide audience. It is a long way from the early stages of her career, when it was frustratingly rare to find stories that depicted the diversity of African women as she wanted them to be seen.
Hence, one of the passions that fuels Gurira as a dramatist is to create work that allows her to step into the specificity of her heritage. "That's something I could not find when I was training," she says. "That's why I started writing. It wasn't like it didn't exist at all, but I could not find it enough, specifically around the African female voice. I wanted to be able to pick up a piece and find something about my heritage, at least have that advantage that I'm stepping into my own people's voices."
Creating new voices and experiences for African women on the stage was the priority, but it was also important to Gurira to create work that had longevity.
"As a dramatist, I want to create literature that can withstand the test of time, not just from my people's perspective but that can withstand any arena and place, and no one can argue with the quality. So that a black African girl in 50, 70 or 75 years' time, can pick up a play of mine and have a really great work out. That has always been my goal, to bring that type of quality story to the black girl or boy, and anyone at that. My plays have varied but they always have the African female voice at the core. That does not change."
Telling African Stories
Born in Iowa to Zimbabwean parents, Gurira moved to Zimbabwe at the age of five before returning to the US when she was 19 to pursue her college education. She told New African Woman that Eclipsed was and remains a special project for her. Written between 2008 and 2009, it has played to audiences in Zimbabwe and South Africa, and had its European premiere at the Gate Theatre in London in 2015.
The then artistic director of the Gate Theatre, Chris Haydon, who programmed Eclipsed and Gurira's 2012 play The Convert, during his tenure, says that what makes her "voice fundamentally relevant is that she writes incredibly moving plays. They have a kind of visceral emotional impact, even though she is writing about very specific places, be that Liberia or Zimbabwe."
Haydon adds that Gurira's stories are "viscerally gripping even if it's actually something that's tragic, and they have a strong emotional power that people with very different life experiences can connect with. I think the human element is why her plays are so successful because people from all sorts of background find them really engaging and she writes very brilliant roles for women."
Gurira describes the journey Eclipsed made to Broadway as "very special" because something in her always felt the play's trajectory was incomplete until it had been staged in New York. However, she had no idea how that would happen. As fate would have it, a young woman who had been an understudy when the play had a run at the Yale School of Drama while she was a first year student there, had a desire to get back on the theatre stage. Eclipsed was the play with which she wanted to achieve that goal. That student was Oscar-winning actress, Lupita Nyong'o, who would go on to make her Broadway debut with Eclipsed in 2016. The role earned her rave reviews and a Tony Award nomination for best actress in a play.
Written with an authentic voice that is laced with nuances and idiosyncrasies unique to Liberia – most evident in the play's language and dialogue – Eclipsed was one way Gurira could legitimately take ownership of a narrative about real events on the African continent. This meant that stories performed on Broadway about African women were for the first time not being told through the default gaze of a foreign white male perspective, or a writer regurgitating a fractured and distorted single story narrative many have become accustomed to.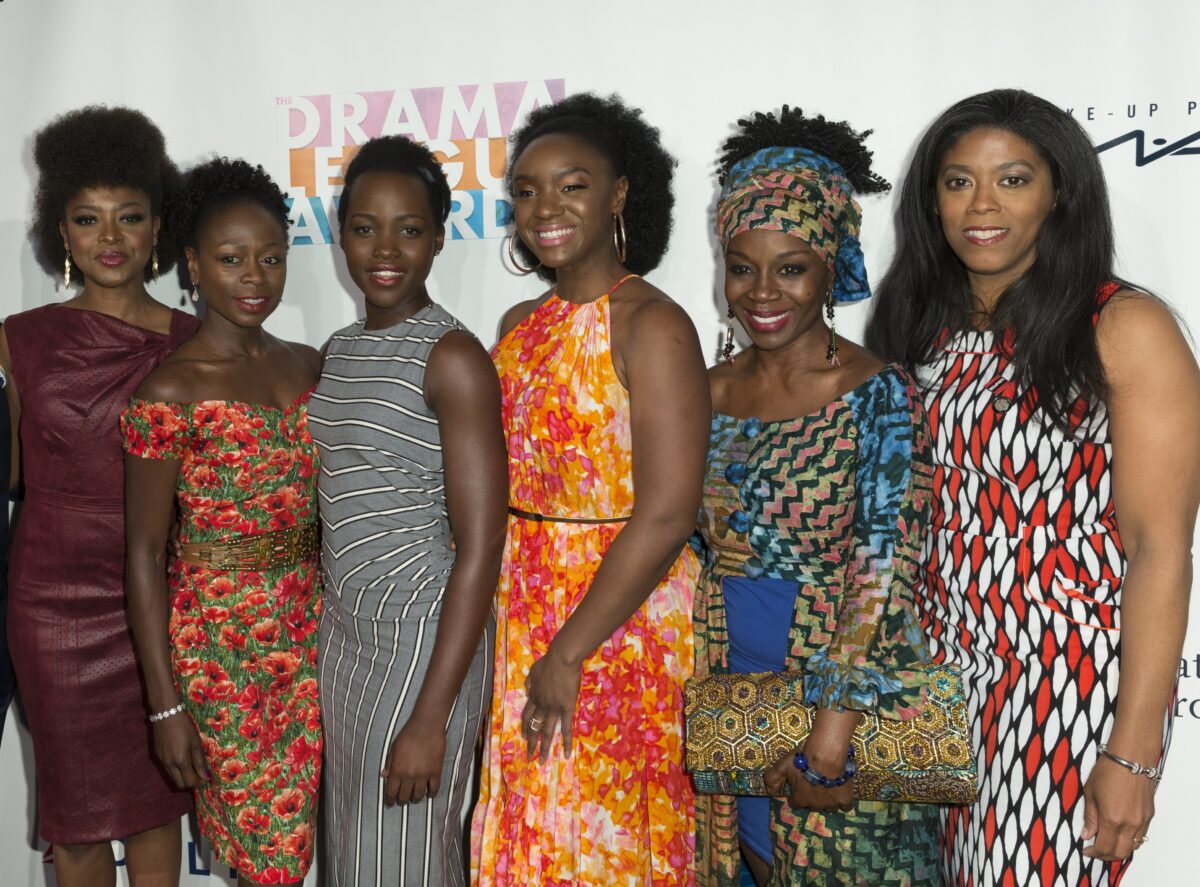 But for Gurira it is not lost on her that the final victory is still to be achieved: "I think we have a long way to go and I'm not resting for a while yet as I feel there's a lot more that needs to happen to see us on the big screen in many different ways, and see and hear African voices on TV in a certain way. We are making progress, and that's the hope and joy, and it definitely is something that does not surprise me."
She goes on to explain that when her first play was produced in 2005, "it really was rare to see the African female voice get out there. It was not and it didn't make sense for it not to be there, which is why I started to do it because I said, what is the excuse for this dearth? And there wasn't one. So I knew it was possible."
Gurira adds: "It's the fulfilment of what I believed in and what I was working towards and I knew there were several other women out there working towards this as well. It was a matter of time for us all to start doing our part and I think that's what is happening. I carry a great responsibility on my own soul because I know there are opportunities open to me now and there are things I must fulfil and complete that will continue to give black girls opportunities and our voices, amplification. We must continue to do this work relentlessly."
Working with Lupita and all the women in Eclipsed was a very, very powerful experience and I always gravitate towards working with fellow African women because I do see the power in our collaboration as black women
Eclipsed secured its place in history as the first Broadway production with an all-black female cast (Nyong'o, Pascale Armand, Saycon Sengbloh, Akosua Busia and Zainab Jah), plus a creative team led by Liesl Tommy, who was born in South Africa. This fits perfectly with Gurira's conscious creation of narratives that ensure the voices of African women are heard and their visibility is not eroded.
Eclipsed only had women on stage. The audience feels the presence of a male character, but they are never seen. "The idea of the cast being all-female is because the minute there's a man on the stage, the entire essence of it shifts," explains Gurira. "You are then focused on his voice and perspective, and how to humanise him in a full and complex way." She says this explains the symbolism of the play's title, which is "about those whose light gets blocked and don't get to be seen or heard, and that's what happens to women in wars. If we were to go through all the wars in the world, you probably will be able to name all the warlords. You can name Charles Taylor in a second but how often are people able to name the women of Liberia who actually stopped that war, or the women who suffered the most during that war? Very few people can name the women and girls who had their lives and selfdetermination snatched from them and had their bodies used as weapons of war."
Gurira's need to create a safe space where women are at the forefront of the conversation reiterates the longtime rallying call of female activists for women to be at the table during the peace process of any conflict because their voice, visibility and experiences reflect the group that often suffers the most heinous crimes during a war.
"I'm always looking to create a space of amplification. If I'm creating or telling the stories of women and girls during war, extract the men from that story and let's just focus on the women that we never get to see or hear," Gurira says. "When you put women on stage alone, you have no choice but to delve into their perspective. You have to leave that theatre thinking about them, their personalities, experience and struggle, their humanity and the potential that was snatched away from them. You have to leave with that on your conscience, not thinking about some man who comes on and his story has to be expounded on and embellished upon."
Gurira is quick to clarify that when it comes to storytelling, she relates each story in accordance with the need of the story. "It's not to say that my plays have no men in them. No. The goal for me as a playwright and writer is to become the purest vessel for the story to be told. So it's always about submitting to the story and not about manipulating it. For me, it was very clear that this story, this particular narrative (Eclipsed) was saying no men were needed. This is about the women's voices. I would not mess with that. It was about making sure that these women you never see or hear from but who suffer so much during conflict, are heard in a pure and clear way. Men were heard and felt but not seen and that was something that was clear to me from the very beginning."
The Activist
It was no surprise when the play became a vehicle for activism. If nothing else, it is pertinent and true to Gurira's nature as an activist. She is founder of Love Our Girls, an organisation that advocates for gender equity for women and girls. Recognising the power of her voice and platform, Eclipsed became a rallying call for raising awareness about the Chibok girls abducted from their Nigerian school in 2014, with the hashtag #KnowHerName.
Gurira said doing this was inevitable because, "unfortunately, the topic matter in the play greatly resonates today and is just as important given what is going on in northern Nigeria, and to several other women and girls issues across the world.
"The gender gap that still violently exists in places globally is something that made the play deeply resonant, even though I wrote the play seven years ago."
Gurira further expounds it was important to use the play as a piece of activism rather than it just being a play that people see and applaud, because at the very least, "we need to have awareness". As such, during the play's run on Broadway, the names of girls who had been abducted in Chibok were called out after each performance as a way of keeping the conversation alive in hearts and minds.
"The goal is, don't walk away from the specifics of these stories saying you don't know about them. Now you know about them and are connected to it. That was the goal, to connect more people with the experiences of women and girls globally. That made Eclipsed a deeply powerful title to bring the work to the world. That's something I have always wanted to do as an artist. Not just to be someone who puts the work out there but I have to be connected to the activism of the theme or issue and not just telling the story, though the story is activism."
Gurira has been described by many media houses as one of theatre's brightest and most powerful voices in America. Her body of work also includes In The Continuum, which won an OBIE Award, Outer Critics Award and Helen Hayes Award. Her 2015 play, Familiar, premiered at the Yale Repertory Theatre before transferring to New York at Playwrights Horizons, an off-Broadway venue in 2016. Her 2012 offering The Convert also garnered accolades (Six Ovation Awards and a Los Angeles Outer Critics Award) and was staged in London in February 2017. Last year was a career high for Gurira, who had two plays running side-by-side, on Broadway (Eclipsed) and off-Broadway (Familiar).
She was also honoured by her peers at Black Girls Rock! with the Star Power accolade. Gurira is a firm believer in the power of collaboration between women. It is something she advocates for and describes as essential because it's very powerful.
"Working with Lupita and all the women in Eclipsed was a very, very powerful experience and I always gravitate towards working with fellow African women because I do see the power in our collaboration as black women," she says.
On the idea that women don't work well together, she retorts: "That's just utter garbage. I have never experienced that. I have always worked very well with like-minded women and find those experiences to be truly, truly immeasurable and valuable. I have only seen collaborations grow as a result of women working together. It's a nobrainer. I mean why would we even question it? White men work together all the time. We have the same vision and goals, and we all have specific and exceptional talents to bring to the table. Of course we should. It makes sense."
In her view, the questions that surround women's ability to work together, is not asked of men and she views this as dispiriting. "To think that there would be any questions that we work well together or that we collaborate well together is a myth and it's an oppressive myth. It doesn't even make sense for people to think any differently but I think that's something that people will question. Never will they question it around men."
The actress In the same way that Gurira is conscious about the need to amplify the voices of African women on the stage and screen, she is equally conscientious about the roles she takes on as an actress. Being Michonne in The Walking Dead has made her a favourite with fans of the show. On the big screen, her credits include The Visitor, Restless City and Mother of George.
Gurira was recently currently on the big screen in All Eyez On Me (above) – a biopic about the life of slain hip-hop rap artist, Tupac Shakur, in which she plays the role of his mother, Afeni Shakur.
She has also recently wrapped up filming for the Marvel movie, the Black Panther, in which she takes on the role of Okoye. The comic book movie is due out early next year.
On the process of choosing her roles, Gurira says she is quite picky and it is a matter of the heart. "The key thing for me is, is the story something that I want to take on? Has it won my heart? Is it something that makes me feel like I must do this? Would I regret not doing this or playing this part? And that's always the hardship for me; if I walk away from this, will I feel a regret? Would I feel a loss? Would I feel like I should have done that? I should have given that my talent, attention, thought, heart and soul because that's what playing a part requires from you – your talent, your attention, your heart and soul."
Gurira is also keen to point out that if it is a role that scares and challenges her, it is an indication that "as an artist, I'm stepping into the right place". It is a journey that is purpose defining for Gurira because it is about "stepping into your calling and destiny and that means accepting that sometimes certain things are not for me and certain things are pruning my own path and that really keeps me in pursuit of my own vision of what I know I would like to contribute in my lifetime. And specifically around telling these stories and being part of telling stories that give a voice to women of African descent."
Danai has also recently wrapped up filming for the Marvel movie, the Black Panther, in which she takes on the role of Okoye. The comic book movie is due out early next year.
Writing stories about her heritage and history is a common thread that runs through her work and speaks to her world as a woman of African descent. However, this is not where Gurira stops when it comes to telling African stories on the global stage. It also means being part of the change she desires to see more of when it comes to those involved in the creative process of bringing stories about Africa to audiences.
Gurira is co-founder and executive artistic director of Almasi, a non-profit Zimbabwean American Dramatic Arts Collaborative Organisation with the goal of developing professional artists and the artistic landscape in Zimbabwe through education and international collaboration.
The stories told in Gurira's plays, with the exception of Eclipsed, have explored the narratives of Zimbabwe. And history matters to Gurira: "I'm intrigued by history. I'm very intrigued by digging into history and I'm intrigued by letting it surprise me and take me on a journey I feel I want to tell a story about."
As she continues on her quest to explore the narratives of her African heritage, Gurira is also writing her way into history.