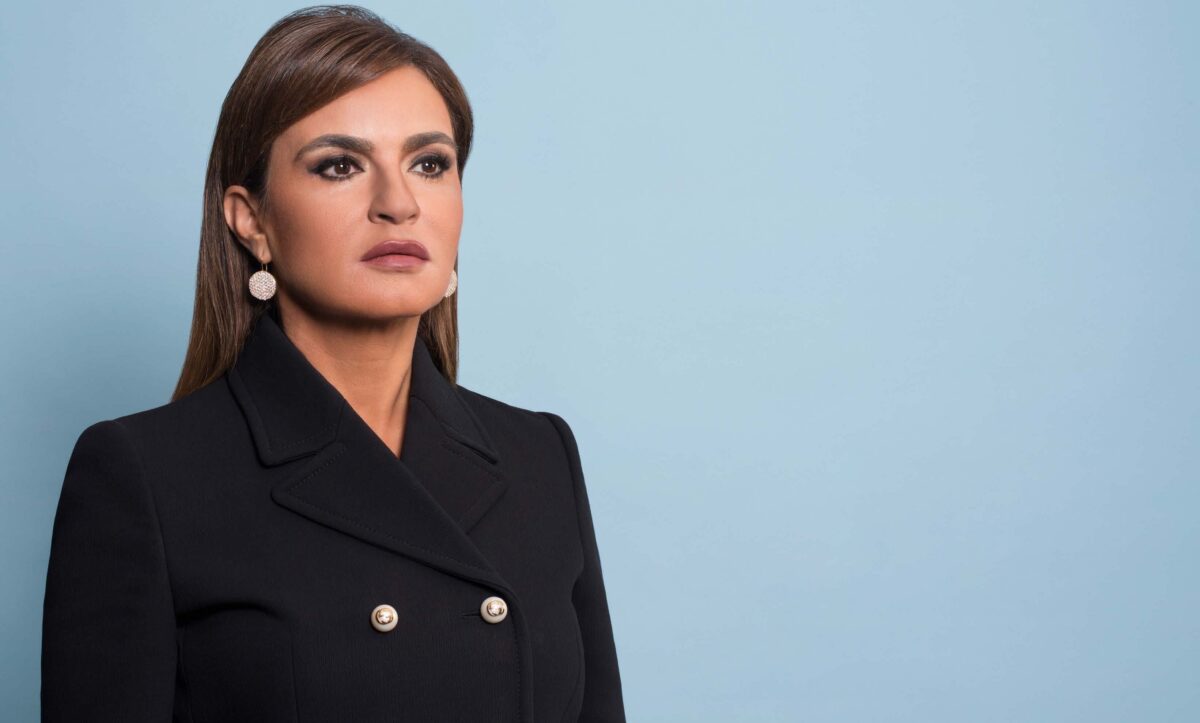 As Minister of Investment and International Cooperation, with a mandate to drive both domestic and international investment to and between Egypt's international partners to spur economic growth, Dr Sahar Nasr, the former Lead Economist and Manager at the World Bank holds a remarkable résumé. She has played a leading role in setting economic policy reforms in numerous developing and emerging economies and has written over 60 research papers, reports and books on international finance, economic development, private sector and financial reform and women's economic and financial empowerment.
When she finally sits down with our  Editor for this interview, it is 7.30pm and she has been in back-to-back meetings in her office since 7am. But Dr Nasr, is still razor-sharp and incisive, recollecting facts figures with a near encyclopaedic memory. It is clear why she is one the most influential women in Egypt and Africa at large today. In this wide-ranging interview, she presents a case for investing in Egypt, the upcoming forum Business for Africa, Egypt and the World, dubbed Africa 2017, and why she is a passionate defender of African women's empowerment based on merit and equal opportunities. Below is the full interview:
Interview: reGina Jane Jere. Portraits: Joupin Ghamsari
Empowering women is an issue you often talk about and advocate for. Is this feasible in Egypt? And what is your overall take on women's empowerment in this country?
Women's empowerment is smart economics. We can only achieve sustainable and inclusive growth through giving women an equal opportunity to play an active role in the economic, social and political sphere. Egypt fully endorses gender empowerment and the President, Abdel Fattah Al Sisi, has endorsed the UN Sustainable Development Goals (SDGs), of which gender mainstreaming is key. And I believe that in order to achieve the goals, gender mainstreaming is a crosscutting issue. Women and girls must have equal access to education, skills development, the labour force, political participation and all social services if we really want to be inclusive.
How is the Egyptian government achieving such a crucial element and how well is it doing in that scope?
Women in Egypt have an important role in boosting economic growth. However only a third of jobs in Egypt are occupied by women. We believe the female employment rate should rise. Participation by women in the economic and political fronts has al- ready started to increase. Currently, there are 89 women in parliament, almost 15% of the seats, which is the highest it has ever reached, jumping from less than 2% in 2012, so we are on the right track.
2017 was declared "Year of the Egyptian Woman". This year is now coming towards its end. Since this declaration, what has changed for women in your view?
That is a very important question. But declaring 2017 as "Year of the Egyptian Woman" was just a stimulus, a great kick-off led by the President. And the fact that he announced this himself, gives a great signal to everyone – political parties, government officials, the private sector and civil society. The responsibility lies upon all of us. This is not only a great initiative. I consider it a starting point based on which we need to work and put all the effort to achieve what all Egyptian women deserve, and support all women to achieve their aspirations, and fulfil their dreams. The year 2017 helped us do major legislative and institutional reforms that specifically would empower women, and that is sustainability in itself.
Such as, if you can be more specific?
Yes of course. For example, any funding or lines of credits that we provide for small and medium or micro enter- prises, we make sure that a minimum of 50% are allocated to women and young entrepreneurs. The Ministry of Investment and International Co- operation has also secured funding for small and micro projects that support female breadwinners in various villages and governorates that are most lagging behind.
And for the first time in our history, we are also working on an investment law that includes an article that specifically states equal opportunities for men and women with no discrimination. It gives all people equal opportunities to start and develop their own businesses, to expand and become active entrepreneurs. We have also established a dedicated fund for the economic empowerment of women in collaboration with the World Bank and the New Partner- ship for Africa's Development (NEPAD) and a special window for women at the Investors Services Centre.
But how does such a law translate at grassroots level, which is often where discrimination emanates from? And bearing in mind too that in Africa empowering women is normally reduced to a micro level of entrepreneurialism.
Women have the right to play an active role in the labour market; we have to give women an equal opportunity to get the education, skills and the knowledge that will help them fully participate in the economic sphere.
We also need to acknowledge that women often need to balance between their work and family duties, and hence the provision of supportive services is essential. The labour law in Egypt stipulates that enterprise should provide childcare services, for example. Taking care of the family applies to men too, but women are considered and are expected to be more responsible for children and taking care of the elderly members of the family – a responsibility that they are proud to carry. After all it's also contributing to economic prosperity through investing in and bringing up future generations.
And despite the fact that husbands and other members of the family such as brothers and fathers also carry part of the responsibilities, we cannot neglect the fact that there are also some social and cultural dynamics in Africa where this leans more on women.
This is why here in Egypt, including at this Ministry of Investment and International Corporation, we are allocating funding to these complimentary services to allow women to thrive. So we are providing an enabling environment on both a legal and regulatory front in terms of the investment law and companies law, but also by providing the infrastructures and services that enable women to balance their duties.
But do opportunities actually exist to have more women rise to positions of influence and power?
Yes, opportunities exist and there are numerous examples of Egyptian role models. Also, in 2015, Forbes Middle East named the Most Powerful Arab Women, and the list was dominated by Egyptian women, and Egypt took almost a fifth of entries overall. Egypt is also the first country to launch its 2030 National Woman's Strategy towards the UN's SDGs and it's serving as the national document to guide the country in its women's empowerment efforts.
As the IMF stated in 2015, if women had the same equal opportunities in the work force as men do, the Egyptian GDP would experience a 34% increase.
May I also highlight something that we often neglect? As an economist I also look at women's contributions at the household level as a critical element that should not be ignored.
For example, if a mother is mentoring and taking care of her son or daughter, and helping them do their studies, that is also productivity – it's work. If a woman is taking care of an elderly parent, this is a major contribution to society and the economy – this is being productive. GDP therefore needs to take such activities into account because there is an opportunity cost here. She could have allocated that time to her job or anything else that is income-earning. And this is one element that we need to reflect on when we are calculating and doing our numbers about women's contribution in the GDP and overall economic growth.
But empowerment should also come with capacity building, resource allocation and much more, don't you agree?
Totally. And by the way, when it comes to the labour market and labour force, the government is kinder to women than the private sector is. For example, the private sector tends to shy away from covering women workers insurance, as they sometimes go on maternity leave. Hence sometimes temporarily affirmative action needs to be taken.
I would also like to highlight that I am very proud that almost 15% of Egypt's parliamentarians are women. And they are not just women but women of quality who are participating in setting the country's regulations and laws at a very critical juncture in Egypt's history after two revolutions, and a time that country is going through major and bold economic reforms.
There is this myth that women parliamentarians would limit their contribution to women and family issues. Totally not true. It is very interesting to watch how women have fought for the Investment Law and better access to utilities and services in lagging regions, such as clean water, sanitation to gas connections.
It therefore appears that Egypt is in line with the UN's 50-50 gender equality call to action. But do you personally believe in positive discrimination or that women should be in positions of power and thrive on their own merit?
I honestly always use the sentence that I love most and believe in, which is "Providing equal opportunities, not equality" because that way, everything is based on merit and performance. Affirmative actions, which you are calling positive discrimination, can be a temporarily measure that you can use as a kick-off just like we have done here in Egypt with the 2017 Year of the Egyptian Woman. What we are calling for as Egyptian women is that all we need is equal opportunities and we do not want to be discriminated against just because we are women.
That said, you have a strong background and CV, which can inspire many young African women of the future. Do you have to work extra harder because you are a woman? What drives you?
 Thank you, I am honoured by that compliment. I honestly believe that when you are working hard, you are committed to what you do, and you set yourself targets of what you want to achieve, you will always deliver and succeed. And I never allow anyone to make me think otherwise. I believe selections, appointments and promotions should be on merit, delivery, achievements, performance and results on the ground. It's your own merit and your hard work that you should be judged and assessed on. Nothing else.
Coming back to the question, I honestly don't think I need to work extra harder because I am a woman. I believe I need to work extra hard because our African continent, including our country, Egypt, is facing challenges and undertaking bold and ambitious, economic, social and political reforms – times of transition, where we all need to join forces for a better Egypt and a better Africa. And this is the time all of us need to work harder in order to fulfil the aspirations of our people and meet the potential of our nations.
But I don't think I need to walk an extra mile because I am a woman. What I need is to work in an environment that does not marginalise me just because I am a woman.
We need to fight for our rights to participate fully in our countries' efforts in achieving inclusive and sustainable growth. We need to refute wrong perceptions; we must use facts and numbers. I don't look at this issue as a women's or a feminist issue. As I said, this is smart economics. Women account for around 50% of the population and the government has invested in their education and healthcare, hence they are productive human capital and we must tap in to their potentials.
For example, when I am talking to the financial institutions, and they say women are more risky to lend to, I tell them that is very strange because the non-performing loans rate is much lower among women. When they talk about credentials, and the glass ceiling women face in high-level positions, I tell them it's strange because the top performers in universities and schools are women, so there must be something there. Too many myths that we have to refute.
The issue is achieving not because you are a woman, but because you are working hard. I would hate to see it like I am in this position because of gender mainstreaming or because we need to have a certain percentage of women Ministers. I believe I am here because I am very passionate about my job and I am very committed, I work hard to achieve results and I work in a conducive and enabling environment that does not discriminate around gender.
Africa indeed has phenomenal women in all spheres. Who are your role models and what have learned from them that you can pass on to the next generation.
I look up to a lot of women and I learn from them every day. I teach Economics at the American University in Cairo, so I learn from my students too. I learn from their questions, their concerns and from their dreams. I learn from my colleagues at the Ministry and their enthusiasm to deliver and serve people. It is also important that you believe and trust in the abilities of your colleagues and that through teamwork and bonding together we achieve more. When I worked at the World Bank, Ngozi Okonjo-Iweala (the former Nigerian Minister of Finance) was my boss, and through her charismatic leadership and inclusion in any process, I learned a lot from her. She would always include young people in any development operations. I believe this important. But I also have male role models for example, President Abdel Fattah Al Sisi, for his commitment and dedication to the Egyptian people and non-stop work and efforts for a better and more prosperous Egypt.
It's great that you mentioned youth. 2017 was billed the year of harnessing this demographic dividend by the African Union. How is Egypt dealing with the issue of youth? In the same vein, as we now live in a technology and innovation-driven age, how much investment and deliberate will goes into encouraging youth and more young women to enter scientific fields?
Egypt's core asset and main engine of growth is its youth and we have a historical reputation as a regional net exporter of educated and skilled labour. And our young and talented workforce is a dynamic force for innovation entrepreneurship and hence we are in a position to provide investors with ac- cess to talented young labour and entrepreneurs. In fact, Egypt boasts a large, young, well-trained and highly competitive labour force of around 27m (more than 30% of the total Egyptian population) with a young median age of 23.8 years, compared to 37.9 in United States and 46.8 in Germany. We are also providing a lot of incentives for entrepreneur start-ups through innovative financial products such as venture capital, crowd funding equity financing overall.
Youth in general are not very inclined to be in debt and to take up loans, and as such, we have established an Investment Fund here at the Ministry of Investment and International Cooperation, that offers equity financing to young entrepreneurs, both girls and boys, and it is complimented by advisory and technical services which assist them on how to conduct their feasibility studies and allows for training arrangements. We are also establishing incubators in different governorates to train young people and help build capacity. And I believe that if you build the capacity of the youth, and you give them the knowledge and the skills they need, they are an asset and a much-needed human capital.
Youth are not a burden, they only become so if you don't give them support and they become detached from the economic sphere and unfortunately sometimes get attracted to destructive behaviours such as terrorism, or even go into illegal immigration to other countries. Our youth need to be given hope and opportunities to play a positive and active role in the overall development of their countries.
If I may move to the issue of business, finance and investment, you are leading a Ministry mandated with driving this task. How do you make the case for "Invest in Egypt"?
Egypt is open for business. A key pillar for the economic reform is improving the business environment and promoting more private sector participation. We are moving forward with major reforms to achieve a conducive investment climate able to attract investments in all sectors: energy, agriculture, industry, tourism, education and healthcare. We are working on different fronts: legislative reforms changing the legal and regulatory framework so that it is more friendly and conducive to investors; secondly, institutional reforms because the law alone is not sufficient. More important is the operationalisation and implementation of the law on the ground through capacity building, automation and advanced technology. Cut red tape, streamline procedures and remove bureaucracy, because at the end of the day, we are operating in a very competitive environment and therefore we have to ask how can we ensure a comparative advantage.
Egypt has launched a great and comprehensive governance and anti- corruption strategy, which offers better quality services by the government, to hold government institutions more accountable, raise citizen satisfaction, and strongly contribute to the achievement of Egypt's development goals.
We have a clear vision, and we are keen on enhancing private sector development and are committed to enhancing the investment environment as part of its broader macroeconomic strategy.
And how are investors reacting to these reforms?
Investments in various fields are growing as a reaction. Numbers are an excellent proof of this. In Egypt, economic growth exceeded expectations to record 4.2% in Financial Year 2017, (FY17) marking an outstanding performance given the several shocks to the economy. As a result unemployment is inched down to below 12% in the second quarter of 2017, the lowest rate since 2011.
Although inflation has been a challenge, there has been some easing – recent figures show a declining trend. Monthly inflation in August 2017 was down to 1.1% compared to 3.2% the previous month. Also, annual inflation is decreasing rapidly, and it is expected to sub- side more in the coming months. So overall macroeconomic indicators are positive, and this has been reflected and translated into Egypt's ranking in several recent international reports and ratings.
Recent trends for investment in Egypt showed an outstanding improvement. Private investment is expected to grow by 18% in FY17 to reach LE267bn [$15.1bn] continuing the uptrend since the 2014 Financial Year. FDI grew significantly in 4th quarter of FY17 by 29% compared to the same quarter the previous year, making total net Foreign Direct Investments (FDIs) for FY17 grow by 14% to reach $7.9bn. Egypt was actually ranked the top African country attracting FDI in 2014 and one of top five countries globally attracting FDI in 2016.
The improvement in the business climate is also reflected in large improvement in the business entry rate due to the rigorous reforms for the investment and business climate.
Come December, under your Ministry, Africa will again converge for an African Business and investment Forum, dubbed Africa 2017. What message are you putting across this year and what would classify as a success from last year's event?
Building on the success of the Africa 2016 forum, we are delighted to host this year's event. Africa 2016 saw the participation of six heads of state and more than 1,000 delegates from 45 countries. It delivered over 300 business-to- business and business-to-government meetings which led to a number of MOUs across multiple sectors. Africa 2017 is the first Africa-to- Africa investment forum and the aim is to create a unique platform for public-private sector cooperation. We are bringing together African policy makers, financiers, leading industrialists and young entrepreneurs in the promotion of intra-African trade and investment focusing on key strategic sectors.
This year's Forum will focus on "Driving Investment for Inclusive Growth", which means investing in a way that is geared for the long term and to deliver solutions that will cater for the challenges of tomorrow. The key message is that we're open for business, we're forging new partner- ships between the government and the private sector built on mutual trust. We're also acknowledging that there is more to be done to accelerate economic growth in our continent.
And to do this requires collective actions from all African governments and private sector to ensure that prosperity is shared among all Africans.
Africa 2017 will focus on solutions that ensure that prosperity is shared. And this means that the youth, people in rural areas and women all have their share in the African growth story aligned with the SDGs that the political leaders have endorsed.
That means achieving inclusive growth. But what does that mean from a business perspective; what does the African business community need to do differently?
Inclusive growth means that there is no one left behind and that all segments in society reap the benefits of the economic growth. On the economic front it entails a level playing field, equal access to market, equal opportunity and a fair and competitive environment.
Here again, we need to highlight a level playing field for small and microfirms, for rural and urban regions, and large corporates and equal opportunity between women and men in the economic sphere, business environment and labour market. It means youth need to be given an opportunity to contribute to the decision-making process in the economic sphere and   in shaping the future of their country. This inclusion will definitely lead to a better Africa.
Inclusive growth also means that the economic reforms are packaged with adequate social safety nets and are built on reducing regional disparities, improving human development, protecting the poor and vulnerable, and providing access to finance for small and micro investors as well as women and youth.
Africans can work closely with international partners to bring best practices, know-how and resources to complement and support their important programmes. And, importantly, businesses need to cooperate.
As you have stated, one of the main premises of Africa 2017 is to strengthen economic and trade ties (through investment) with and within African countries and globally. But critics will always say what holds this back is the lack of infrastructure – including both road and air transportation – in Africa. How will Africa move on from this and when?
Africa has been rising during the past two decades, which was largely due to transformative governance that has witnessed policy reforms in political and socio-economic systems and a broad acceptance of the urgent need for sustainable development.
To sustain such growth we must own and drive the continental agenda and deliver the needed structural reforms through addressing the development finance constraints, including the infrastructure gap. To do that we need to sustain the flow of a significant amount of finance for implementation of programmes at national, regional and continental levels.
According to the World Bank, Africa needs to spend $93bn – 5% of GDP – each year on infrastructure and the African Development Bank (AfDB) notes a $50bn financing gap in achieving this.
To succeed, as Africans we need to tap into our huge domestic resources. Above all, we need to encourage Africans to benefit from such gaps and invest heavily in infrastructure through Public Private Partnerships (PPPs), which I believe African governments should develop because PPP schemes are lucrative and can encourage both African and international investors.
I can give an example of our own achievements in this area here in Egypt: in 2016, we raised over $15bn for infrastructure projects, increased our energy supply by 45%, built over 6,000 kilometres of new roads, started a project that links Egypt to the rest of the North African countries by road and invested in new and existing airports.
So, yes it can be done. Egypt managed in one year to jump from 96 to 71 in the 2017 competitiveness report. We are proud!
Africa 2017 – Business and Investment Forum takes place in Sharm El-Sheikh from 7 -9 December. The Forum will bring together a wide range of the foremost political and business leaders in Africa and across the world to discuss ways of enhancing pan-African international trade and investment, and promoting a business climate, with a major focus on the role of the private sector.